Lionel Messi led Argentina from the front as they beat Croatia 3-0 to qualify for the FIFA World Cup 2022.
After taking a 2-0 lead before halftime, Argentina was already in a position to qualify for the FIFA World Cup final for the sixth time in their football history.
Two-Time FIFA WORLD CUP 2022. the captain and the star player were in excellent form.
The PSG forward scored in the penalty shootout and then assisted on two other goals.
The two-time world champions, who had the support of the vast majority of spectators at the Lusail Stadium, put on their best performance of the tournament to guarantee that they would face the winner of Wednesday's semifinal match between the defending champions France and Morocco in Sunday's final.
Messi, 35, who lost to Germany in the 2014 World Cup final, is eager to cap off an extraordinary career by helping Argentina win its third World Cup, joining titles won in 1978 and 1986.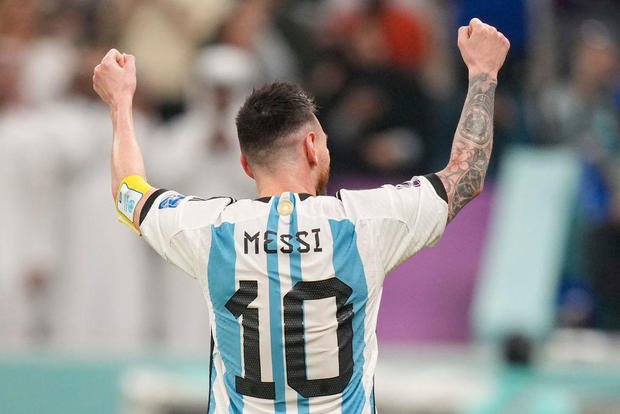 Additionally, he ensured the victory by brilliantly setting up the third goal after setting his team on the path to victory with a perfectly executed first-half penalty.
Croatia, who finished second in Russia four years ago, paid the price for some unusually bad defending by exiting the tournament in the semifinals for the second time after losing to France in their inaugural match in 1998.
Enzo Fernandez's low pot shot from outside the box in the 25th minute was the game's first sign of life, but Croatian goalkeeper Dominik Livakovic did well to get across and block it.
It was a close match until Fernandez lofted a simple ball over the top, which the Croatian defence couldn't handle.
Alvarez pounced on it and knocked the ball past the charging Livakovic, who then collided with the striker, and Italian referee Daniele Orsato pointed to the spot.
The 11 goals Messi scored were the most by any Argentinian in the history of the FIFA World Cup.
Argentina will now compete in the final on Sunday, December 18, against either France or Morocco. Tomorrow at 12 am (PST), the defending champions France will face Morocco in the second semifinal.