LeBron James, the star of the Los Angeles Lakers, broke Kareem Abdul-Jabbar's record passing Kareem Abdul-Jabbar's 39-year-old record and becoming the most successful player in the history of the North American Basketball Championship (NBA).
Abdul-Jabbar broke the scoring record in April 1984, eight months before James was born.
LeBron now became the NBA's all-time leading scorer. James, 38, hit 38 points in a 133-130 defeat by the Oklahoma City Thunder to surpass Abdul-Jabbar's mark of 38,387.
The 38-year-old Akron (Ohio)-born superstar was 36 points behind Abdul-Jabbar, the all-time leader with 38,387 points.
The Gracing Presence
An emotional James rose both arms in celebration while 75-year-old Abdul-Jabbar, who was at the match at the Lakers home court, stood and applauded.
LeBron said, "To be able to be in the presence of a legend and great as Kareem, it means so much to me".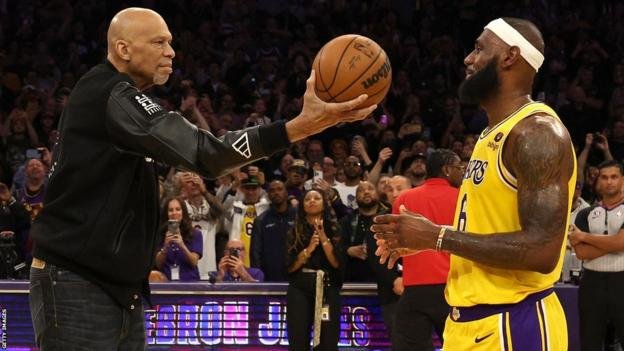 The game had stopped at that point and James was greeted by the former top scorer, Abdul-Jabbar, who retired in April 1989.
Abdul-Jabbar ceremoniously handed over the ball to James to recognize his new record in front of a cheering crowd.
"I thought it had every chance of being broken. It just had to have someone that the offense focused on continually," said Abdul-Jabbar.
The spectators had the tennis legend John McEnroe, boxer Floyd Mayweather Jr. The actor Denzel Washington, music stars Jay-Z, LL Cool J and Bad Bunny also added to the vibe of the moment.
There was a brief break in play for a ceremony to mark the achievement, with James taking a microphone to make a speech on court.
Who's the Best ?
To a question if he is the best NBA player of all time, James said: "I'll let everybody else decide who that is or just talk about it. But it's great barbershop talk", he added.
"Me personally, I'm going to take myself against anybody who's ever played this game. But everyone's going to decide who their favorite is."