PTI submitting a report of talks with govt in the Supreme Court today
ISLAMABAD: Pakistan Tehrik-e-Insaf is submitting a report to the Supreme Court about its talks with the government regarding elections on the same day.
The government and PTI leaders are holding talks as per the order of the Supreme Court to evolve a consensus on holding elections on the same day in the country.
The Supreme Court is hearing a case on delay in elections. The court had directed the government to hold talks with other parties to decide a date for elections.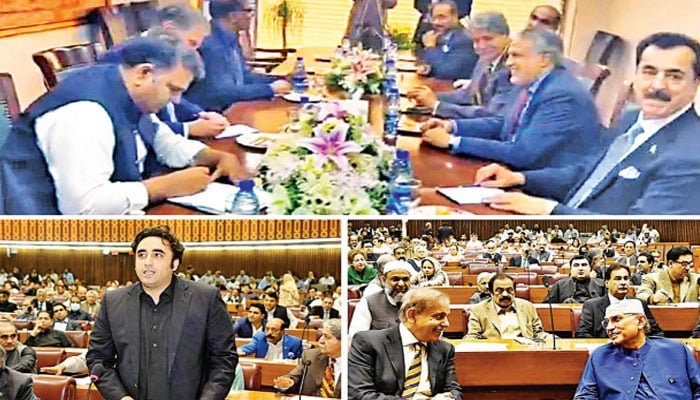 So far, the government and the PTI could not decide on a date for holding nationwide elections.
It was learned that the PDM government has turned down the demand of the PTI to dissolve the National Assembly, Sindh, and Balochistan Assemblies before May 14 to hold fresh elections.
On Tuesday, Interior Minister Rana Sanaullah ruled out elections in Punjab on May 14, a deadline given by the Supreme Court of Pakistan.
He also said that the government wants to present the upcoming budget and the assemblies could be dissolved after its approval.
Meanwhile, PTI chairman Imran Khan has linked the dissolution of the National Assembly to holding further talks with the government. Be believes that if the government is serious about holding elections, it will dissolve the assemblies.
On Tuesday, PTI leaders Shah Mahmood Qureshi, Fawad Chaudhary, and Senator Ali Zafar held talks with the government's team.
The government team consisted of former prime minister Yousaf Raza Gilani, Finance Minister Ishaq Dar, Law Minister Senator Azam Nazir Tarar, Railways Minister Khawaja Saad Rafique, Commerce Minister Naveed Qamar, National Food Security and Research Minister Tariq Bashir Cheema, and Muttahida Qaumi Movement-Pakistan's Kishwar Zahra.
Importantly, the government and PTI leaders are giving controversial statements about talks and elections that reflect a deficit of trust among them.