Minus-One Formula
ISLAMABAD: PML-N leader Shahid Khaqan Abbasi expressed his skepticism about the effectiveness of "minus-one" or "plus-one" formulas in the January 2024 elections during an event in Islamabad on Monday.
He suggested that all stakeholders should engage in discussions to determine the way forward, emphasizing the need for a truth commission to investigate the veracity of Nawaz Sharif's statement, which would help clarify the situation.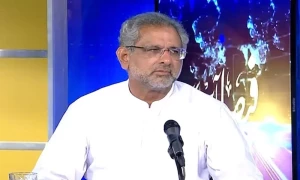 Abbasi's comments followed interim Prime Minister Anwaarul Haq Kakar's statement that "fair" elections could proceed without PTI Chairman Imran Khan and jailed leaders of his party. Abbasi believed that such statements should be part of public debate and mentioned Nawaz Sharif's planned return to Pakistan, scheduled for October 21.
Earlier in the day, PML-N President Shehbaz issued a directive barring all party leaders from traveling abroad before Nawaz Sharif's homecoming.
Pakistan has scheduled elections for the final week of January 2024, with the JUI-F urging that they avoid the winter season. Sources also indicated that Nawaz Sharif, in a party meeting in London, remained firm in his stance on holding accountable those allegedly involved in the "2017 conspiracy," the period when he was removed from the prime minister's office through a court decision. Overall, Abbasi believes 'Minus-One' formula is ineffective in elections.
PML-N: No Room for Two Narratives Within the Party
In an interview on Monday, Abbasi emphasized that the party cannot accommodate two conflicting narratives.
"We must have a single narrative focusing on how to address people's problems," he stated during Asma Shirazi's show, "Faisla Aap Ka." He expressed uncertainty about the party's narrative regarding accountability, questioning if it was a solution to the country's issues.
He acknowledged the need to address the nation's problems for the system to function effectively and urged adherence to the Constitution. Abbasi also clarified that he wasn't part of discussions regarding Nawaz Sharif's narrative against key figures and delegated leadership responsibilities to Shehbaz Sharif.
When asked about the "vote ko izzat do" (respect the vote) slogan, Abbasi suggested that the people should assess its execution and effectiveness, stressing the importance of presenting a specific action plan and agenda to tackle Pakistan's challenges.