PM Shehbaz Sharif summons PDM leaders meeting after SC's decision
ISLAMABAD: Prime Minister Shehbaz Sharif today summoned a special meeting of the PDM leaders to discuss the decision of the Supreme Court for holding elections in Punjab and KP in 90 days.
During the meeting, the coalition partners will discuss the pros and cons of the apex court decision.
The coalition partners in the federal government are not willing to hold elections for Punjab and KP assemblies fearing their defeat in the wake of a massive price hike and depreciation of the rupee value.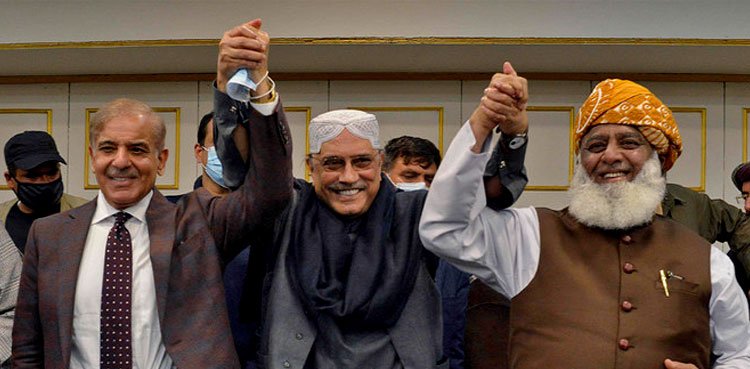 To obtain loans from the IMF, the government has accepted the harshest conditions of the fund, triggering inflation and unending price-hikes in the cost of utilities.
On Wednesday, Chief Justice of Pakistan Umar Ata Bandial said that elections in Punjab and Khyber Pakhtunkhwa will be held within 90 days from the dissolution of assemblies.
The CJP announced the verdict of the five-member bench in the suo motu case on the delay in polls in Punjab and Khyber Pakhtunkhwa. Out of five-member bench of the apex court, three judges supported elections within 90 days while two judges gave a different viewpoint.
Justices Mansoor Ali Shah and Mandokhel differed with the decision of the apex court.
The bench reserved its decision on Tuesday after hearing arguments from the counsels of all the stakeholders. The court, therefore, decided to announce its verdict on Wednesday around 11 am.
The apex court stated that the KP Assembly had been dissolved after the governor signed the summary, while the Punjab Assembly dissolved on its own _ after 48 hours as the governor did not sign the summary of the chief minister.
The top court ruled that the Constitution gives powers to the governor on three conditions, under which he can dissolve the assembly under Article 112 or on the advice of the chief minister.
Article 222 says that the election was a subject for the Centre, it added.
The court further stated that the Election Act 2017 gives the governor and the president the power to announce a date for the polls.
"If the governor has dissolved the assembly, then he would announce the date," CJP Bandial said.
The court stated that in case the governor does not dissolve the assembly, the president has the power to dissolve the assembly and announce the date for the election.
The court directed President Arif Alvi to announce the date of the Punjab election after consulting with the Election Commission of Pakistan (ECP) and directed the KP governor to announce the date for polls in his province.