PDM chief Fazlur Rehman seeks postponement of elections in Punjab and KP
ISLAMABAD: PDM and JUI-F Chief Maulana Fazlur Rehman demanded the postponement of the elections in Punjab and Khyber Pakhtunkhwa.
He said that the law and order situation has in the country and not suitable for polls in both provinces.
Talking to the media today, Maulana Fazlur Rehman said, "Law and order situation is not favorable for elections."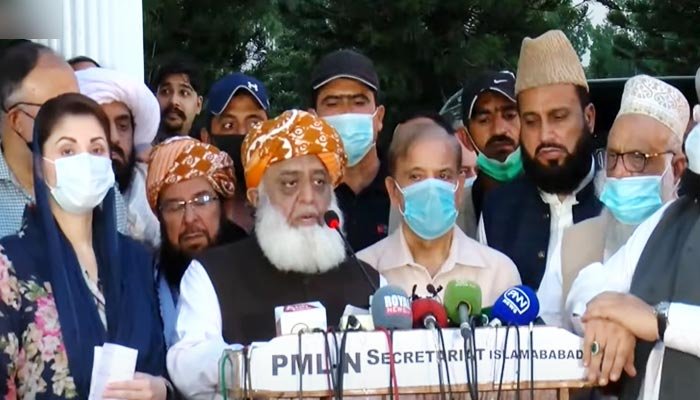 The PDM chief demanded this a couple of days after President Dr Arif Alvi and the Election Commissions of Pakistan announces elections in Punjab on April 30.
Maulana further said that Rs 80 billion are needed for the printing of ballot papers. He pointed out that this huge amount is required at a time when the government is finding it difficult to give social protection to poor people.
Last week, the Supreme Court ordered the announcement of elections in Punjab and KP. The apex court said that the President of Pakistan can announce the date of elections for Punjab while KP Governor will announce the date for KP assembly polls.
Meanwhile, on Friday, the Election Commission of Pakistan (ECP) suggested dates for elections in Punjab.
The ECP has recommended that the provincial assembly polls in Punjab take place between April 30 and May 7. The commission conveyed this recommendation to President Arif Alvi via letter.
ECP Press Release:
"The Election Commission has sent a letter to the president in light of the decision of the Supreme Court of Pakistan. In its letter, ECP has suggested dates for holding the elections in Punjab have been suggested between April 30 and May 7, 2023."
The ECP stated that it is ready to fulfill its constitutional and legal obligation once the president selects the date for the elections.
The ECP has written a letter to the governor of Khyber Pakhtunkhwa to inquire about the date for polls in the province.
President Alvi and the KP governor will collaborate with the ECP to decide on dates for the Punjab and KP assemblies, respectively.
The Punjab and KP assemblies must hold elections within 90 days after the date of their dissolution, according to the ECP statement.