Sharif summons Maryam
ISLAMABAD: Nawaz Sharif, the leader of the Pakistan Muslim League Nawaz (PML-N), has summoned his daughter Maryam Nawaz to London.
Maryam Nawaz is expected to depart for London next week. She plans to stay in London for a week and will have a meeting with Nawaz Sharif during her visit.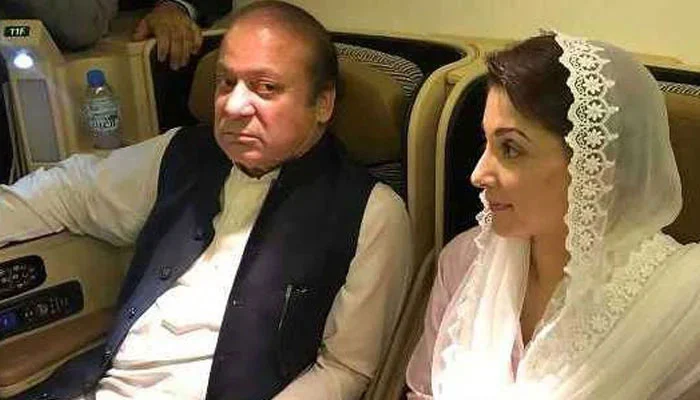 Nawaz Sharif summons Maryam Nawaz to London to discuss political matters.
Maryam will provide her father with an update on the party's plans regarding his return to Pakistan.
Additionally, they will engage in discussions related to political and constitutional matters.
It is anticipated that Nawaz Sharif will finalize the details of his return to Pakistan after his meeting with Maryam.
Following her return, the PML-N will formulate a plan to welcome Nawaz Sharif back to Pakistan.
Former Finance Minister Ishaq Dar has stated that there are no obstacles preventing PML-N leader Nawaz Sharif from participating in elections.
He explained that Article 62 (1) (f), reduced the disqualification period to five years. Now both Nawaz Sharif and Jahangir Tareen are eligible to participate in elections.
Ishaq Dar refrained from making comments about PPP chairman Bilawal Bhutto Zardari. He said that the PDM made decisions during the 17-month tenure of the PDM coalition government through consensus.
Former Prime Minister Shehbaz Sharif announced last week that Nawaz Sharif would return to Pakistan on October 21. He said the party would give a warm welcome upon his arrival.
Shehbaz Sharif also emphasized that Nawaz Sharif would come to Pakistan to face the law, and there was unanimity on this matter within the party.
He stated that Nawaz Sharif's removal from power in 2018 and alleged election rigging had set Pakistan behind in the region.
Shehbaz Sharif expressed his party's decision that Nawaz Sharif would return in October to lead the election campaign.