LAHORE/ISLAMABAD:
Lahore High Court today summoned the inspectors' generals of police of
Punjab and Islamabad at 6 pm.
Justice Tariq Saleem of the LHC directed the IGs of Punjab and Islamabad to
appear in the court this evening after police failed to produce Fawad Chaudhry
in the court.
PTI has challenged the arrest of its leader Fawad Chaudhry in the Lahore
High Court.
The LHC Judge gave the order on the petition of Nabeel Shehzad, cousin of
Fawad Chaudhry.
Nabeel has filed a habeas corpus plea in the Lahore High Court, urging the
court to recover the PTI leader.
Justice Tariq Saleem Sheikh of the LHC heard the petition. He ordered the
authorities to present Fawad in the court by 1:30 pm and extended the time to 2
pm. However, on failure, the LHC Judge summoned the police chiefs of Punjab and
Islamabad.
Earlier, a local court in Lahore allowed the police to shift PTI leader
Fawad Chaudhry to Islamabad after having his medical examination.
Lahore police presented Fawad Chaudhry in court after arresting him from his
brother's residence in Lahore.
Islamabad police have registered an FIR in Kohsar police station against Fawad Chaudhry for threatening the ECP members and their families with dire consequences.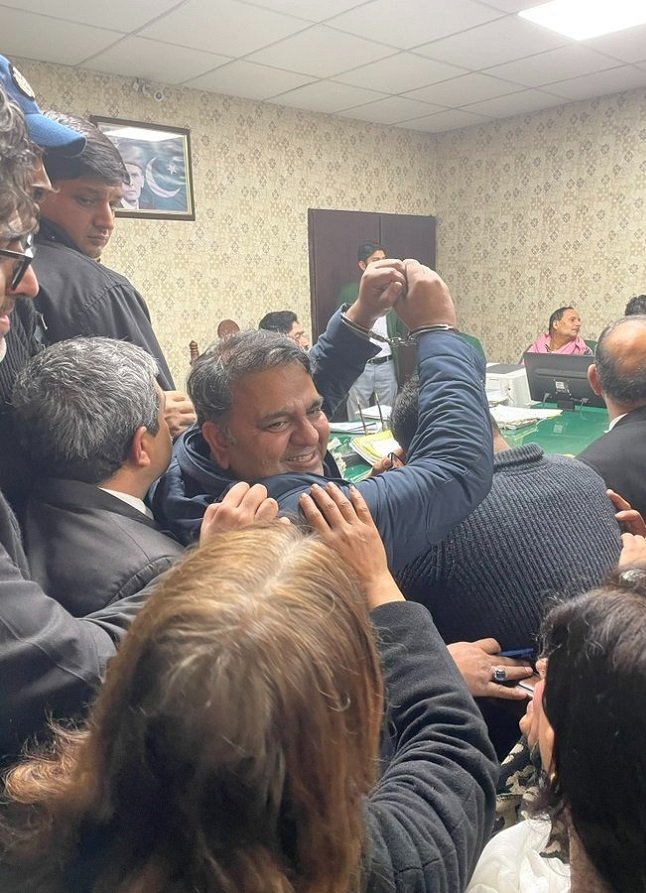 Faisal Chaudhry, brother of Fawad told the media that the former federal
minister was "taken away" in four cars without number plates at 5:30 am. Faisal
said that the family was not aware of Fawad's location at the time and the nature
of the case.
Earlier, the Lahore court ordered the medical examination of the PTI leader
on Wednesday morning when police presented him in the court to obtain his
transitory remand.
The judicial magistrate adjourned the hearing asking police to take Fawad to
Islamabad after a medical examination.
Consequently, police took Fawad to Services Hospital in Lahore for a medical
check-up.
Islamabad police registered an FIR against Fawad Chaudhry on Tuesday night
and Lahore police arrested the PTI leader early Wednesday morning after he
publicly threatened the ECP members with dire consequences and lambasted the
government for planning to arrest Imran Khan.
Islamabad police have shared on Twitter that police have registered a case
for threatening the ECP members and their family members. Secretary ECP lodged
FIR against Fawad Chaudhry, police added.