Lahore police may conduct another operation at zaman park ahead of PTI rally
LAHORE/ISLAMABAD: Lahore police may conduct another operation at the Zaman Park residence of PTI chairman Imran Khan.
Police is also expected to carry out operation in areas adjoining the Zaman Park residence of former prime minister. The operation will be carried out ahead of the PTI rally on Wednesday in Lahore.
PTI chairman Imran Khan said his party will hold a mammoth rally at Minar-e-Pakistan in Lahore to show its strength and voice concern against government and police brutalities.
Chief Minister of Punjab warning
Meanwhile, the caretaker chief minister of Punjab Mohsin Naqvi said that the police have been given a free hand to tackle the attackers and anarchists. Talking to media today, he said, "Police will break hands of those who tried to attack them."
On Saturday, the Lahore police raided the Zaman Park residence of Imran Khan and arrested several PTI men from there who put up resistance during police action.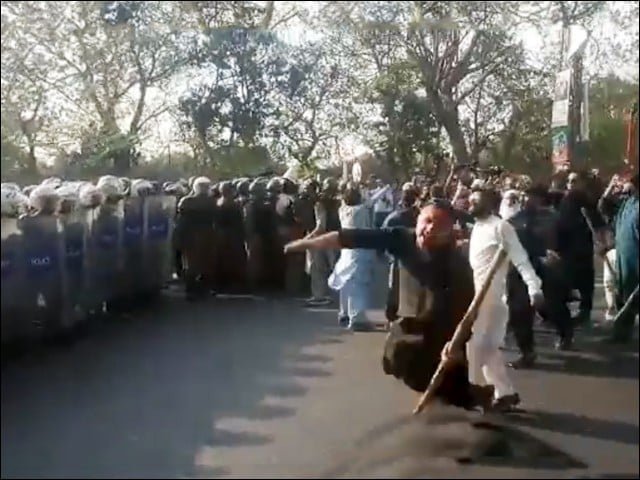 Lahore police took this action at a time when PTI chairman Imran Khan is on his way to Islamabad to appear in the trial court in the Toshakhana case. The former PM is set to appear in the court before 5 pm on Saturday, as per the order of the Islamabad High Court.
On Friday, the IHC suspended non-bailable arrest warrants for Imran Khan for one day (Till Saturday 5 pm) to allow Khan to appear in the country.
The IHC gave this order a day after the trial court judge Zafar Iqbal upheld the arrest warrants of Imran Khan and rejected Khan's plea to dismiss his non-bailable arrest warrant.
Meanwhile, police have rounded up over PTI 20 workers who put up resistance against the police action.
According to police, the raid was conducted to clear the PTI camps established near the residence of Imran Khan.
"Section 144 is imposed, you are kindly advised to disperse," police announced before taking action at Zaman Park.
Accident in PTI cavalcade
An accident took place in the motorcade of PTI near Kallar Kahar. Many vehicles ramped into each other as one of the vehicles overturned near Hafizabad.
The PTI chairman and other important leaders remained safe in the accident.