Notice to FIA
ISLAMABAD: The Islamabad High Court issued a notice to the Federal Investigation Agency (FIA) regarding a petition submitted by Imran Khan. PTI chief seeks bail after arrest in the Cipher case.
The court's decision to issue notices occurred during the hearing of Imran Khan's bail request. Khan has challenged a recent ruling by a special court in the same case. PTI lawyer Salman Safdar filed the petition on behalf of Imran Khan in the IHC on Saturday, seeking hearing on Monday (today).
The special court, operating under the Official Secrets Act, had rejected bail requests from both _ Imran Khan and Shah Mahmood Qureshi.
The Chief Justice of the Islamabad High Court, Aamer Farooq, issued these notices in response to the petition. Salman Safdar filed a petition on behalf of PTI's chairman, Imran Khan.
Imran Khan's legal team requested early hearing for the case. In response, the Chief Justice of the IHC emphasized the importance of following legal procedures.
The court directed the FIA to provide a response to Imran Khan's petition.
Both Imran Khan and Shah Mahmood Qureshi are in jail on judicial remand in the cipher case until September 26.
Imran Khan seeks bail from the IHC
Meanwhile, Imran Khan, the PTI Chairman, filed a bail application with the Islamabad High Court in the cipher case on Saturday. He urged the court to grant him bail in this case.
On September 14, the special court of the Official Secrets Act dismissed the bail requests of the PTI chief and Vice Chairman Shah Mahmood Qureshi.
The bail application contends that the prosecution maliciously initiated the case. Petitioner asserted that the special court overlooked the prosecution's irregularities while rejecting the bail.
Furthermore, it claims that the PTI chairman was falsely implicated in a fabricated case.
On September 14, the special court turned down the post-arrest bail applications of PTI Chairman and Vice Chairman in the cipher case.
Judge Abul Hasanat Zulqernain delivered his reserved verdict after the concerned parties completed their arguments.
IHC rejects IK's plea to bar authorities from arresting him
Meanwhile, the Islamabad High Court (IHC) has rejected a plea to instruct authorities against arresting PTI leader Imran Khan in any pending cases. The IHC bench explained that it is unwilling to establish such a precedent.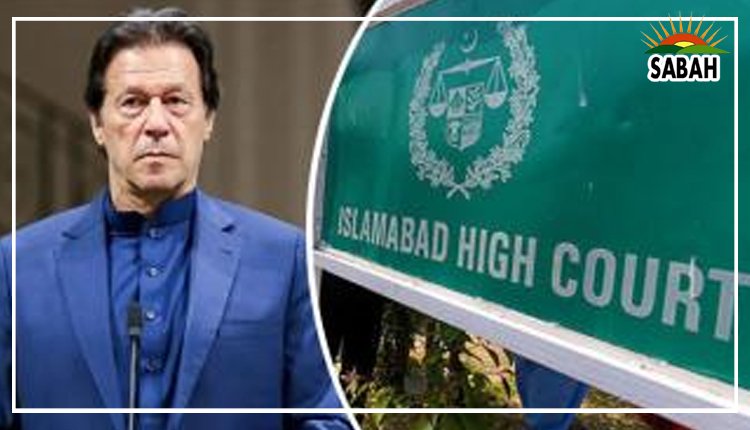 Imran Khan seeks bail from the IHC and filed a petition today.
A division bench of the high court led by Chief Justice Aamer Farooq and including Justice Tariq Mehmood Jahangiri heard Imran Khan's petition. Khan challenged the revocation of his pre-arrest bail in nine separate cases, including those filed against him following the May 9 disturbances.