Govt removes IG Police of GB amid reports of GB police use against Punjab police at zaman park
ISLAMABAD: The government removed the inspector general of police, Gilgit-Baltistan Muhammad Saeed amid reports that the GB's police personnel were involved in an assault on Punjab police at the Zaman Park operation.
Federal Information Minister Mirriyum Aurangzeb claimed that the GB's police force was used against Punjab police during the operation at Zaman Park to arrest PTI chairman Imran Khan.
Soon after this startling disclosure by the federal minister, the government immediately removed the IG police of GB from his post and directed him to report to the establishment division.
Now the federal government has appointed Dar Ali Khan Khattak as the new Inspector General of Police of Gilgit-Baltistan.
Earlier, the Lahore High Court today ordered Punjab police to stop the operation at Zaman Park that was launched to arrest Imran Khan. LHC Tariq Saleem Sheikh directed the IG Punjab Police and Chief Secretary to stop the operation immediately till Thursday morning.
Meanwhile, Islamabad High Court upheld the arrest warrants for Imran Khan but directed him to submit an affidavit in the trial court for his appearance there.
Earlier, the former prime minister and PTI chairman today said that his house in Zaman Park was under an immense attack since Tuesday noon.
In his latest tweet, Khan said that the officials of police and Rangers are using tear gas and opening straight fire on PTI workers.
Imran Khan also gathered dozens of empty teargas shells and displayed them on a table while he is sitting on a side.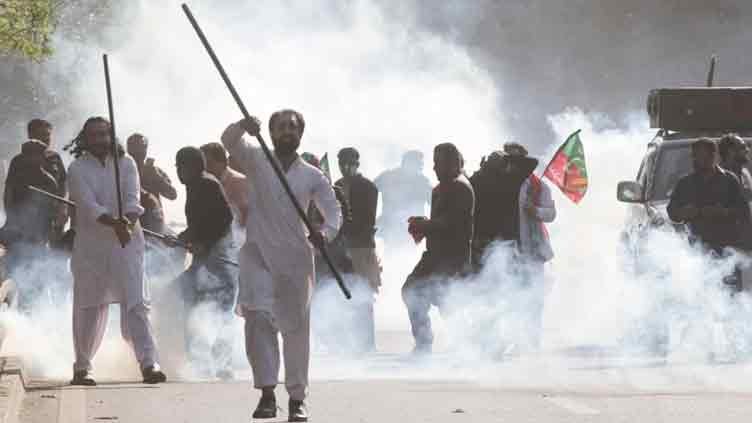 He just shared one glimpse of the extensive use of teargas shelling on the PTI workers, standing outside Khan's Zaman Park residence to foil arrest.
Meanwhile, Imran Khan taunted the establishment about their neutrality as the police and Rangers officials reached the entrance of Zaman Park on Wednesday to arrest Khan in the Toshakhana case.
The law enforcement agencies have called in more water cannons, tear-gas shelling vehicles, and security personnel to arrest PTI chairman Imran Khan amid growing clashes with PTI supporters.
In his tweet issued on Wednesday morning, Khan said, "After our workers and leadership faced police onslaught since yesterday morning of tear gas, cannons with chemical water, rubber bullets, and live bullets this morning; we now have Rangers taking over and are now in direct confrontation with the people."
However, after the court's decision, the operation to arrest Imran Khan was suspended on Wednesday evening.