The motorcyclist was beaten up in a video that rapidly went viral on social media After a motorbike was hit by a Rangers mobile van on a busy downtown street.
In the 52-second footage, shot from a CCTV camera:
A fast-moving Rangers truck hits a biker, presumably to avoid a collision with a car.
As the motorbike rider, who was not wearing a helmet, crashed to the ground, three Rangers troops left the vehicle.
When one of the Rangers extended his hand to him, he may have expected the motorbike would lift him.
But instead, he grabbed him by the collar and the other two men began savagely punching him.
The fate of the biker remains unknown.
The Rangers waited until late at night to issue a statement regarding the incident or clarify whether any offenders had been apprehended.
Writer Mehr Tarar Tweeted: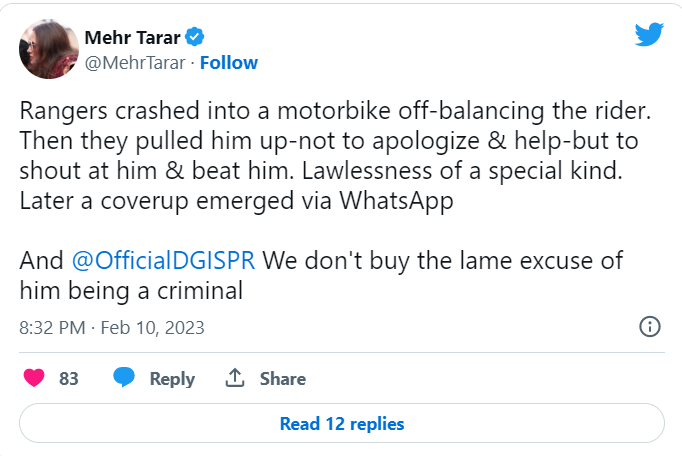 Have a look at the Video:
Rangers beating man on bike:
Although the cause for the Ranger's rudeness towards the rider is unknown.
Many have stated that it is consistent with our police force's usual pompous public behaviour.
Others, however, believe the guy was a suspected thief who was apprehended by the Rangers while attempting to leave.
Even if the latter is true, beating someone in public—especially by someone sworn to uphold the law—is disrespectful and counterproductive.
It highlights how arrogant officials can be, not only because they show no respect for spectators, but also because they ignore the reality that no legal system would ever condone such violent behaviour.
According to early reports, the Rangers are pursuing a snatcher, according to PTI politician Shahbaz Gill in a tweet.
Also Read,
Watch: Arslan Khan Melts Bride Hira Khan's Heart With A Surprise Dance