ISLAMABAD: Islamabad's administration has enforced smart lockdowns in about 32 streets located in the federal capital of Pakistan. Meanwhile, Punjab government also recommended smart lockdowns in 17 areas of Rawalpindi district.
According to a notification issued by the district administration, 32 streets of different sectors have been closed which are streets 1, 2 and 6 in E-11/4, streets 46 and 53 in F-11/3, street 8 in G-6/2, streets 56, 62, 66, 67, 91, 93, 96, 98, 99 and 100 in G-9/4 and streets 52, 53, 69 and 70 in G-10/3. In G-13/2, streets 30, 32, 45, 47, 48, 49 and 74 have been sealed while streets 91, 92, 95 and 109 in I-8/4 have been closed. Similarly, street 15 in I-8/1 and street 78 in I-8/3have been sealed. In I-9/4, street 28-B and in in I-10/1 streets 55 to 58, 61, 64, 65 and 80 to 83 have been closed. Streets 32 and 33 have been sealed in I-10/2 street 26 in I-10/4. Movement has been restricted in street 19A in G-15/1. As many as 555 people were found infected by the virus in both districts, with the positivity rate in the capital touching 10.6pc.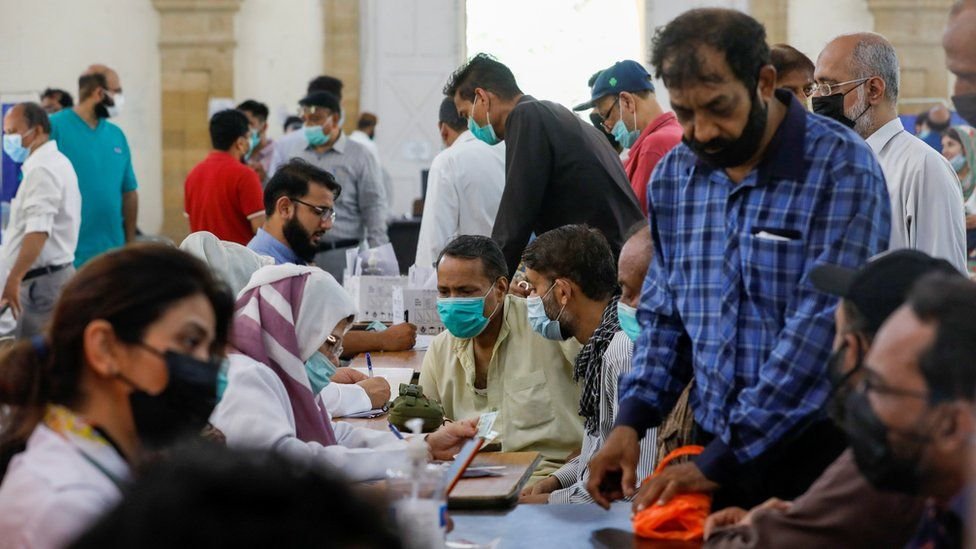 On the other hand, while violation of standard operating procedures (SOPs) continued, vaccination centres have become one of the most vulnerable places. Hundreds of people stay in queues without maintaining social distancing. It is worth mentioning that as many as 3,707 samples were collected from the city on Saturday, out of which 395 were found positive.
The weekly positivity rate, which was 0.9pc in the last week of June with 221 cases reported during the week, has increased to 9.2pc with 2,180 cases reported in the past one week.
There are some exemptions to the order such as availability of essential services and supplies like pharmacy and medicine shops, rationing, drinking water supplies, utilities and emergency and so on, but under strict standard operating procedures (SOPs).
Meanwhile, vaccination centres across the city have become hubs of virus transmission as implementation of social distancing has been ignored by people and the administrations of the centres.
Meanwhile, Punjab health authorities have recommended smart lockdown in 17 areas of the district as 80 patients were reported from these areas in a week.
These areas are Umar block Phase-8 Bahria Town (five patients), street 16 Dhoke Khabba (four patients), Arya Mohallah (seven patients), New Gulzar-i-Quaid (four patients), St 16 New Lalazar Wah Cantt (four patients), Askari 14 (six patients), Chatri Chowk KRL (four patients), Dhoke Kashmirian (six patients), Abu Bakar Block Phase-8 (five patients), Morgah (four patients), Mohallah Aliabad (four patients), 7th Road Satellite Town (four patients), Tench Bhatta (six patients), Lalazar (four patients), Village Nara Kahuta (four patients), Quaid-i-Azam Colony (five patients) and Nai Abadi Naseerabad (four patients).
Smart lockdowns will be enforced in and around the houses where more than four patients are reported.