Karachi: According to the results announced by ECP, the PPP won a total of 107 seats. The party also got its candidates elected unopposed on 31 seats. With a total of 246 union councils (UC) in seven Karachi districts, elections were held on 235 on Jan 15.
The PPP secured 94 seats in Karachi, including one elected unopposed. The Jamaat-i-Islami (JI) won 86 seats, followed by Pakistan Tehreek-i-Insaf (PTI) with 40 seats.
In Hyderabad, PPP won 76 seats, PTI 37, Independents eight, TLP two and JI one, as per the ECP's data. The results of 28 seats are awaited.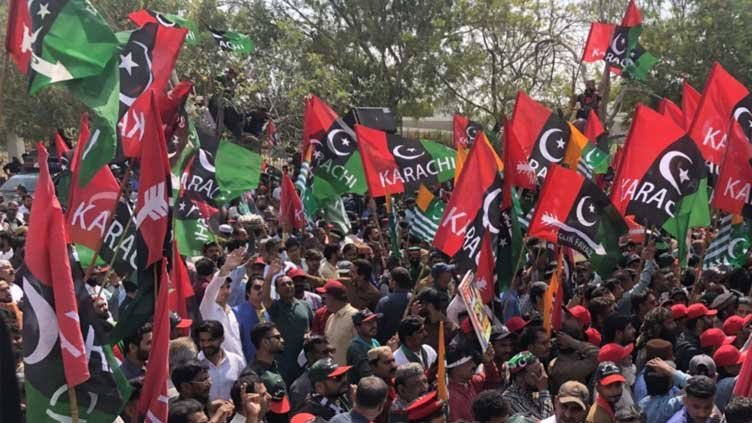 The results of local bodies polls in Karachi and Hyderabad came out after a delay of almost 29 hours. Many were surprised as Pakistan Peoples Party (PPP) emerged victorious from both cities.
The voting in the 10 remaining constituencies was postponed due to deaths of candidates a few months ago. While in one constituency the PPP's candidate had returned unopposed.
Pakistan Muslim League-N bagged 07 seats, Jamiat Ulema-i-Islam (JUI) three, Tehreek-i-Labbaik Pakistan (TLP) two, Independent candidates three and one seat went to the Muttahida Qa­u­mi Movement-Haqeeqi.
Out of 160 total seats, polling in Hyderabad was held on 123 seats to elect chairmen and vice chairmen. The polling in six UCs was postponed due to the deaths of candidates.
Reservations
The Sindh LG Polls drew doubts when a strong reaction surfaced from the opposition parties who accused the ECP of "conniving with the ruling PPP" to forge results.
JI Karachi chief Hafiz Naeemur Rehman accused PPP of engineering results. Later the JI Chief said "We have won over 100 seats. Last night we were provided forms 11 and 12 of those [100] UCs and by early morning, the results changed."
He claims that "the JI lost seats where it had the documented proof of winning,
PTI leaders levelled similar accusations. They even demanded the resignation of the ECP chief for his "failure" to ensure a free and fair election. Ali Zaidi of PTI accused PPP of "peaceful rigging" and said the party used government resources to rig the results.
ECP's stance
The ECP attributed the delay in the announcement of results to the complexity of local bodies' polls. Provincial Election Commissioner Sindh Ejaz Anwar Chohan also ruled out any "deliberate move" to delay the process.
"The Election Commission is performing its duty amicably," he said while talking to reporters at the ECP's provincial headquarters.
"All these tasks are being performed manually. The local bodies' elections are always different from general polls. One should not compare them," he added.
However, his arguments failed to ameliorate the contesting parties.
felicity
Buoyed by the initial trend in the results, PPP Chairman Bilawal Bhutto-Zardari claimed majority in Karachi and Hyderabad, even before the complete results were announced.
"According to feedback from our polling agents, the single largest party in Karachi will be PPP IA [Insha Allah]," he tweeted minutes before 1pm when opposition parties were protesting for the release of results.
"Overwhelmed by the support of my city, my birthplace, for choosing PPP for the first time. Together we will build the Karachi we deserve.  #KarachiHumSabKa #YeShaherKarachiBhuttoKa."
Senior journalist and columnist Mazhar Abbas said the PPP's win in Karachi was not indicative of a rise in its popularity. "The PPP, no doubt, always had its strong constituencies in Karachi.
Then they further capitalised on it by carving out Keamari district, expanding Malir district coupled with recent development projects and launch of transport service," said Mr Abbas.
"They planned things well in advance and before any other party and moved in that direction."
In terms of political gains and popularity, Abbas said only the JI made strong grounds. It launched a proactive campaign for the rights of Karachi, empowerment of local government and addressing issues at the grassroots level.
He added that "The PTI never gave importance to Karachi's politics or local issues. Throughout the campaign for the polls, the voters never found PTI Chairman Imran Khan anywhere."
Mr Khan even cancelled his visits to Karachi twice which were planned when the polls were announced earlier, the veteran journalist added. "Apparently, the party never valued the Karachi local government elections."