SC Judge Qazi Faez Isa declares his assets
ISLAMABAD: The Senior-most judge of the Supreme Court and next chief justice of Pakistan Justice Qazi Faez Isa voluntarily revealed his personal assets in the past three fiscal years.
Qazi Faez Isa will become chief justice of Pakistan in Sept this year, as the incumbent CJP Bandial will retire probably on Sept 23 or 24.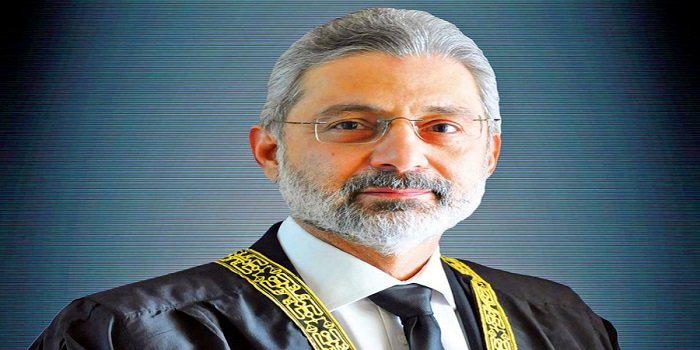 Qazi Isa's assets include his income from pay, perks, plots, homes, cash/foreign currency, and cars. Justice Isa has shared his assets on the website of the Supreme Court last week. His assets did not show any abnormal increase in recent years unlike one of the judges of the Supreme Court.
He earned a total of Rs54.34 million in salaries for fiscal years 2018, 2019, and 2020. Qazi Faez Isa paid Rs6.7 million in taxes in these fiscal years.
The SC's judge reported Rs15.11 million, Rs17.145 million, and Rs21.237 million as income for 2018, 2019, and 2020, respectively. Consequently, Qazi Isa paid Rs2.2 million, Rs1.8 million, and Rs2.3 million in taxes for the years quoted above.
In comparison with another judge of the Supreme Court, whose assets have expanded to more than three billion rupees in recent years, Justice Faez Isa seems to be a poor judge.
By declaring his assets publicly, Qazi Faez Isa has thrown a challenge at some of his colleagues who have billions of assets. And it would be difficult for them to disclose their total assets as one of them is already facing a reference in the Supreme Judicial Council.
Moreover, Justice Isa owns a residential plot (800 square yards) in Phase 2 of the Defence Housing Authority (DHA) in Karachi. He has built a home there to live there. Qazi Faez Isa also owns another residential open plot (800-square-yard) in the DHA, Karachi, and a 200-yard commercial plot in Phase 5 of the DHA. He bought these plots when he was practicing law, before becoming a judge.
He also inherited a half-share in a plot in Ziarat, Balochistan. He also owns an old house of one kanal in Lahore's DHA.
Meanwhile, he has Rs 4.13 crore in bank accounts and foreign currency equal to Rs 4.114 crore. Senior most SC judge also owns three vehicles _ a Honda Accord, a Honda Civic, and a mini jeep.
Justice Isa has one official residence in Islamabad, 2 government servants, and two Honda Civic cars _ 2017 and 2015 models.
Being a judge of the Supreme Court, he can use up to 600 liters of petrol in a month, and free medical treatment at government-approved hospitals.
Qazi Faez said that being a judge of the Supreme Court and chief justice of the Balochistan High Court, he never applied for plots. He was offered one plot but he refused to get that.
Justice Isa's said that his wife was not dependent on him. She has been filing her own income tax returns in the United Kingdom and Pakistan.