The Punjab government announced that Lahore will observe a public holiday on March 11 (Saturday) in honor of Madhu Lal Hussain's urs.
The Punjab Home Department released a notification declaring a public holiday throughout the Lahore District on this date.
In addition, educational institutions will close on March 11.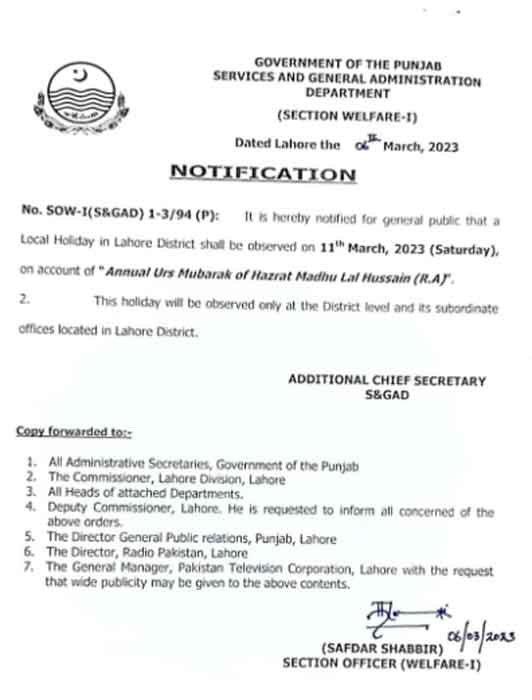 Madhu Lal Hussain was a 16th-century Sufi saint and poet who lived in Lahore, Pakistan.
Both Muslims and Hindus in the region revere him and regard him as a symbol of love and harmony between different religions.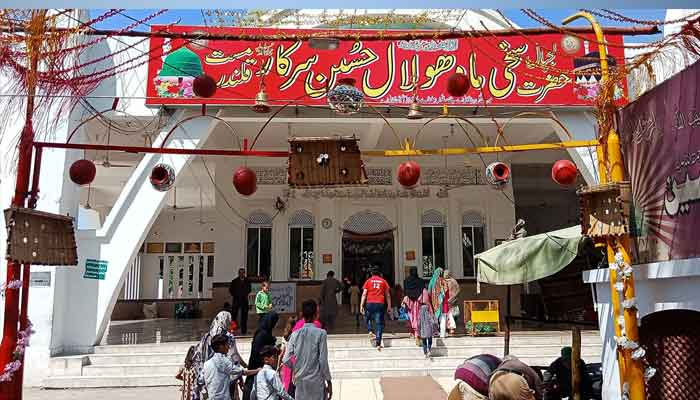 Madhu Lal Hussain's teachings emphasized the importance of inner purity and spiritual enlightenment, and his message was one of universal love.
Every year, a three-day urs is held in Lahore in his honor, during which devotees from different faiths come together to pay their respects.
This festival is a significant cultural event in the region and represents interfaith harmony and unity.
Earlier,
Sindh government declared a two-day public holiday in the province to celebrate Holi for its Hindu employees.
The notification read:
"The Government of Sindh declares 06th and 7th March, 2023 (Monday & Tuesday) as holiday for Hindu Community on the occasion of "HOLI" for all offices, autonomous, semi-autonomous bodies, corporations and local councils under the administrative control of Government of Sindh, except those engaged in COVID-19 and flood relief duties."
The Hindu community in Pakistan and around the world is celebrating Holi, the "festival of colours" and a spring festival, with traditional and religious fervour.
Furthermore, Holi marks the end of winter and the beginning of spring, and celebrants spray coloured powder and water at each other, dance, and distribute sweets.
Additionally, They also smear red vermilion powder, known as "Abeer," and throw water-filled balloons.
Read More: Sindh Government Declares March 6-7 As Public Holidays For Hindu Community On Holi