Pakistani forces have clashed with hundreds of Afghans stranded on Pakistan's side of a commercially vital border crossing with Afghanistan after its closure by the Taliban, Pakistani security officials say.
The disturbances broke out on Thursday after a 56-year-old Afghan traveller died of a heart attack as he waited in the dusty heat to enter Afghanistan via the Chaman-Spin Boldak crossing.
Protesters carried his body to a local Pakistani government office demanding the border be reopened. Some began throwing stones at security forces, who responded by firing tear gas and charging the protesters with batons to disperse them. No injuries were reported, according to Al-Jazeera.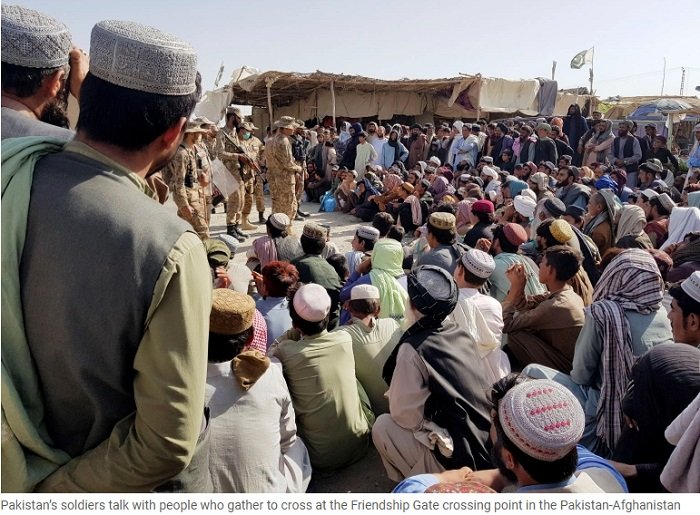 The Chaman-Spin Boldak crossing is landlocked Afghanistan's second busiest entry point and main commercial artery to the Pakistani seacoast.
The Taliban, which captured the crossing last month as part of a major advance across Afghanistan as US-led foreign forces withdraw, announced its closure on August 6 in protest at a Pakistani decision to end visa-free travel for Afghans.
The Taliban is demanding Pakistan allow Afghans to cross the frontier with either an Afghan ID card or a Pakistani-issued refugee registration card.
Taliban Capture 17 Provincial Capitals
The Taliban have caprtured more capital cities today such as Terenkot, Pul-e Alam, Feruz Koh, Qala-e Naw and Lashkar Gah within hours after capturing Herat and Kandahar cities. So far, the Taliban have got control over 17 provincial capitals across Afghanistan.
Afghanistan is tipping towards civil war and the West must understand that the Taliban is not a single entity but a title for a myriad of competing interests, the United Kingdom's defence minister says.
"Britain found that out in the 1830s, that it is a country led by warlords and led by different provinces and tribes, and you end up, if you're not very careful in a civil war, and I think we are heading towards a civil war," Defence Secretary Ben Wallace said.
"The Taliban is not entirely a single entity, they break down underneath the title into all sorts of different interests," Wallace said.
Military and government officials had evacuated the city after striking a deal with the Taliban, according to the security officials.
In Qatar, international envoys to Afghan negotiations have called for an accelerated peace process as a "matter of great urgency" and for an immediate halt to attacks on cities.