Pakistan Muslim League-Nawaz (PML-N) Senior Vice-President Maryam Nawaz delivered another hard-hitting speech on Tuesday, emphasizing the necessity of holding elections in the country.
However, Maryam Nawaz also acknowledged that certain "key decisions" remain pending.
Earlier on February 27:
Maryam Nawaz had demanded the rectification of the "injustice" against her father and PML-N leader Nawaz Sharif before the upcoming elections.
she stated:
"We will hold the elections once the conviction of the innocent Nawaz Sharif is overturned."
Maryam Address to party workers in Sheikhupura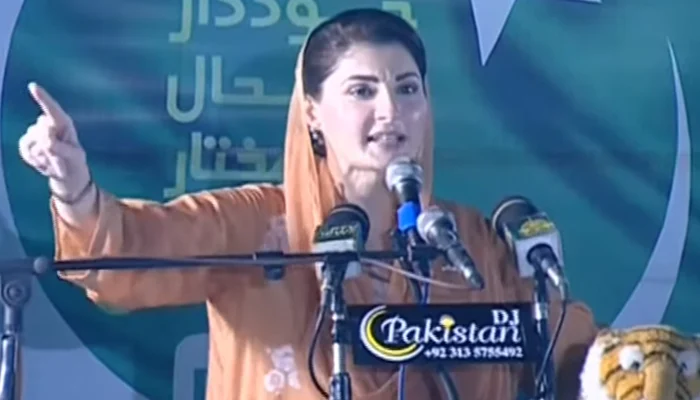 During her recent address to party workers in Sheikhupura, where she serves as the chief organizer, Maryam reiterated her stance, declaring that there must be accountability prior to elections.
Maryam mentioned the purported injustices against the PML-N's leader and the apparent leniency shown to Pakistan Tehreek-e-Insaf (PTI) Chairman Imran Khan by the courts.
She made a commitment to balance the "scale of justice" before the upcoming elections.
Read More: Bilawal Lands In New York For Women In Islam Moot
She criticized Khan, accusing him of being a coward who preaches about breaking the "idol of fear" and "shackles of slavery" while hiding in his Zaman Park residence.
Maryam also questioned Khan's decision not to court-martial General (retd) Qamar Javed Bajwa when he was the prime minister, despite the fact that Bajwa had requested it upon his retirement from the army.
Maryam highlighted that "innocent" Nawaz had attended court hearings 200 times, whereas the "fitna" (referring to Imran Khan) had only appeared twice.
Nawaz accuses PTI party leaders of having bail within a mere 48 hours.
She stated that her father, the PML-N supremo, had placed his case in the hands of Allah.
Maryam also criticized former Chief Justice of Pakistan, Saqib Nisar, who had led the five-member bench that disqualified Nawaz from holding public office in the Panama Papers case in July 2017.
Notably, a day prior to Maryam's speech, Nisar had stated that he did not declare ex-prime minister Imran Khan "completely" Sadiq and Amin (truthful and honest) in his previous court verdict.