In a tragic incident, a man in Karachi's Malir neighbourhood attempted to commit suicide after allegedly killing his wife and three daughters with a knife.
The horrifying incident happened in a house which is located in the city's Shamsi Society neighbourhood.
The police and rescue teams arrived on the scene as soon as the information was received, moving the bodies and injured people to the Jinnah Hospital.
According to media reports, the killing occurred on the first floor of the house, and the victims' bodies were discovered with silt throats.
Screams and cries were heard before the murder, according to the tenants of the ground floor of the house.
Huma and her three daughters Fatima, Nimra, and Neha are recognised as the deceased along with Huma.
A knife has also been found by the police at the crime scene, and forensic teams have arrived to gather evidence.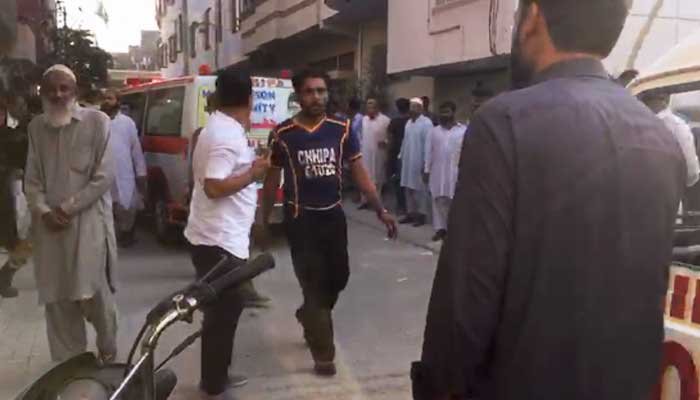 Murad Ali Shah, the chief minister of Sindh, took note of the incident and requested a report from the chief of the Karachi police. He also ordered that an investigation into the killing be carried out as soon as possible.
Creditors were pursuing the man who killed his wife and three daughters in Malir's Shamsi Society in Karachi.
This came to light as a result of police's preliminary inquiries, which included an initial statement from the suspect.
Fawad, the suspect, allegedly admitted to working for a private company in the food and beverage sector in a statement that was typed up by him on a computer.
Fawad claimed that over the previous five years, he had taken money from investors, invested it in a variety of businesses, including the food industry, and divided the profits.
But recently, a number of factors prevented him from giving the stakeholders the promised profit.
Because of this, he was being pursued by his creditors, some of whom would even congregate outside his home and raise a commotion while demanding payment.
Fawad claimed that he even took a job at a food company in an effort to avoid ruin and be able to pay his creditors.
However, the desired outcome was not achieved, and the creditors became more aggressive.
Fawad claimed to the police that he killed his family because he was tired of the way he was being pursued.