Jacobabad: According to police, kidnappers engaged in a shoot-out with six members of the Balochistan Police's Anti-Terrorist Force, killing a sub-inspector and five other policemen.
During the altercation at the Chand water canal, which is under the control of the Mouladad police station in Jacobabad, two other cops also sustained injuries.
The Mitho Shah gang from Jacobabad, who had kidnapped Furqan, the son of Aslam Soomro, the owner of a rice mill in Balochistan, had transported him to the Mouladad region.
Someone kidnapped Furqan Soomro on Tuesday night while he was travelling from Jacobabad to Usta Mohammad Town.
The kidnappers detained him in the Kashmirabad neighbourhood of Jaffarabad.
To assist the Balochistan police, SSP Hasnain Iqbal travelled from Jaffarabad to Jacobabad with a squad, while SSP Jacobabad Dr. Sumair Noor Channa also showed up with a sizable police force.
Balochistan police team was trying to recover son of mill owner from Sindh-based gang
The Mitho Shah Gang barricaded themselves on the embankment of the water channel and opened fire as the Balochistan police launched a hostage rescue operation close to Chand Shakh in the Jageer neighbourhood.
Police officers Abdul Wahab, Mohammad Usman, Riaz Hussain, Syed Khadim Hussain Shah, and Nisar Ahmed were all killed in the subsequent gunfight, along with Sub-Inspector Tayyab Hussain Umrani, who was also the Station House Officer (SHO) of Usta Mohammad police station.
Altaf Hussain and Husain Ali both suffered wounds.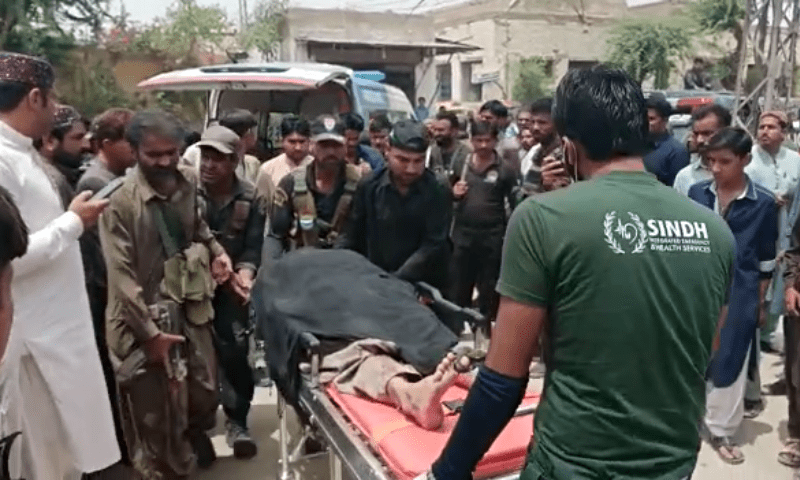 According to DIG Nasirabad Munir Ahmed Sheikh, the exchange of fire lasted for several hours.
Constable Hassan Ali was sent to another hospital owing to his serious condition after the corpses of the deceased and the injured were carried to Jacobabad civic hospital.
After post-mortem investigations, the authorities returned the deceased to their respective families.
According to the authorities, Constable Khadim Hussain Shah joined the service after his father, Inspector Syed Jalaluddin.
DIG Munir stated:
 "We have sent more police and ATF personnel to the area while Sindh Police has also joined the Balochistan police and is taking part in the operation against the armed dacoits."
According to DIG Munir, the Mitho Shah and Jakhrani gangs carried out the kidnapping of Furqan Soomro.
He also stated that the police operation to free the captive and apprehend the gang responsibly is currently underway, and the Sindh police have already set a price of Rs 3 million on their heads.
SSP Channa promised to swiftly prosecute the group.
Also Read: US Not Against Pakistan-Russia Oil Deal