Islamabad Police Seeks 1000 FC Personnel To Tighten Security In The City:
Islamabad Police Seeks 1000 FC Personnel To Tighten Security In The City
ISLAMABAD: Islamabad police have demanded deployment of 1000 FC personnel in the capital city to further tighten security amid terror threats.
The personnel of the Frontier Constabulary will be deployed at check-posts along with Islamabad police.
Soon after suicide blast in I-10/4 sector a few days ago, Islamabad police have set-up 25 check-posts at different points to maintain law and order in the city.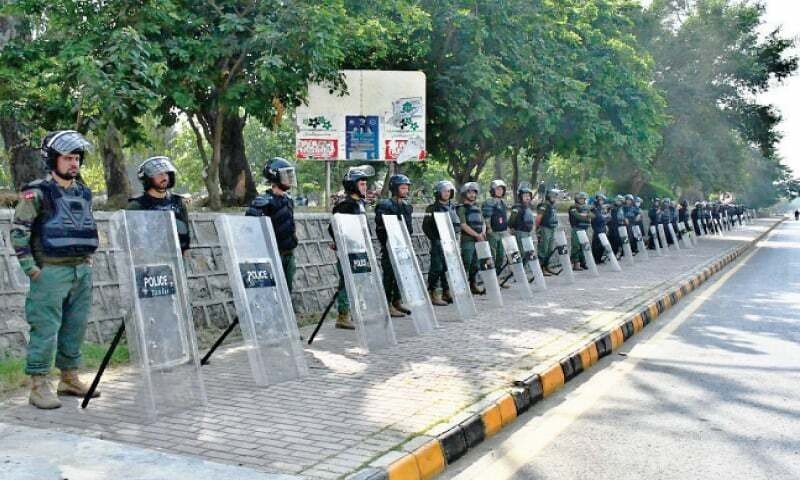 To further improve the security arrangements, Islamabad police wrote a letter to Ministry of Interior and requested deployment of 1,000 FC personnel in the city for enhancing security.
According to police, the residents of the capital city must report to police helpline 15 when they see any suspicious activity in their area.
Meanwhile, through its Twitter handle, the ICT police urged the residents of Islamabad to cooperate with police at check-posts.
Meanwhile, the diplomats of the United States, the United Kingdom, Saudi Arabia and Australia in Islamabad have advised their citizens and staff members not to visit public places in Islamabad due to possible terror attacks.
On Monday (Dec 26), Saudi Embassy in Islamabad issued an advisory for its citizens in Pakistan and asked them to 'limit their movement' in the wake of the adverse security situation.
Through its Twitter handle, Saudi Embassy in Islamabad said, "The Custodian of the Two Holy Mosques in the Islamic Republic of Pakistan would like to warn all citizens residing and visiting the Islamic Republic of Pakistan of the need to take caution and not to go out except for necessity, given that the authorities in the capital, Islamabad, have raised the security alert to the highest level."
Meanwhile, Australian High Commission in Islamabad also asked their citizens and members of staff to avoid going to the Marriott Hotel as some unknown individuals are planning to attack it.
Earlier, the United States and UK issued advisory for their nationals and staff members in Islamabad, asking them to be careful and avoid visiting public places, including the Marriott Hotel in Islamabad.