On Sunday, hundreds of PTI supporters gathered in front of the White House as Imran Khan, a former prime minister, issued a warning that elections might not be held in either October or November.
In an interview with CNN's Fareed Zakaria, Mr. Khan voiced his displeasure, alleging the absence of the rule of law in Pakistan and revealing that authorities had detained over 10,000 PTI members.
PTI workers traveled from Virginia in two buses and arrived singing patriotic songs and chanting catchy phrases to demonstrate their unshakable dedication to the ongoing fight for democracy in Pakistan.
Despondent supporters, concerned about the crackdown on party workers, found solace in a song that offered encouragement: "Don't worry, good days will return."
Don't Worry, good days will return, a song that offered comfort to discouraged followers worried about the crackdown on party members.
PTI supporters came from multiple places in and around Washington in addition to the buses from Virginia, demonstrating the party's rising popularity within the Pakistani-American community since Imran Khan's imprisonment.
"Pakistan Zindabad" (Long Live Pakistan) and "Imran Khan Zindabad" (Long Live Imran Khan) were the recurring catchphrases at the White House. Unlike past demonstrations, there were no anti-military shouts.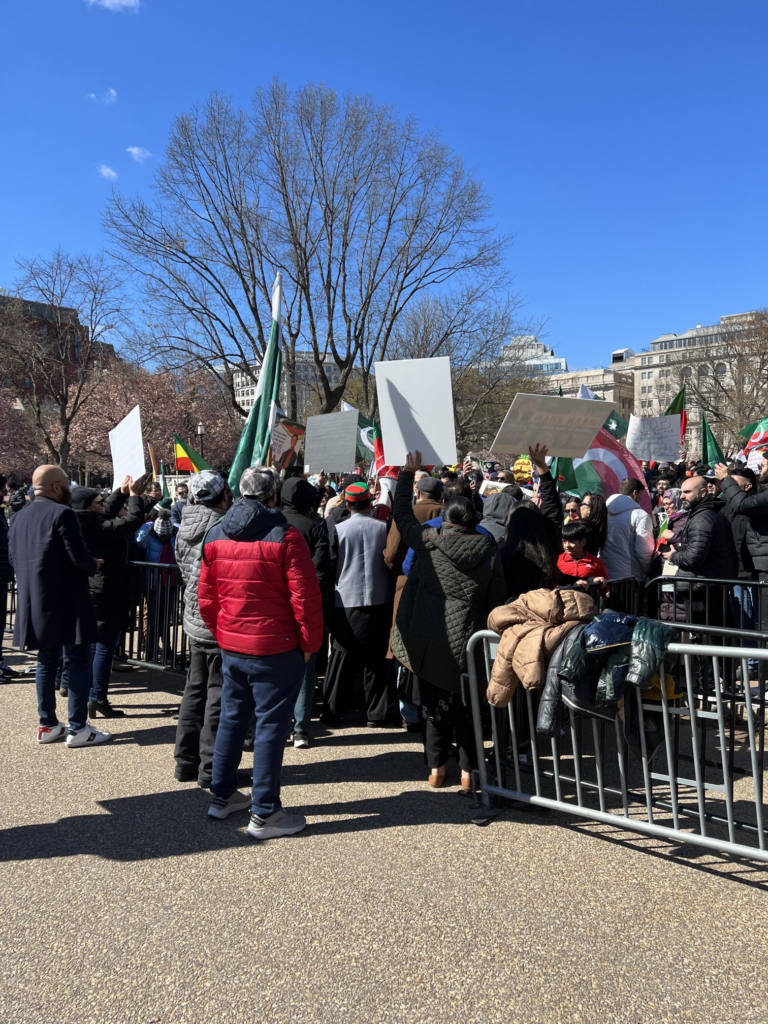 Johnny Bashir, a local PTI leader, said: "The nation is ours, and the army is too. "We oppose a few generals acting alone,"
Mr. Khan complained that the police had surrounded his Lahore home and subjected each guest to a rigorous check during his interview with Fareed Zakaria.
He described a situation in which he made the decision to let the media into his home one evening in order to refute the government's assertion that it was home to terrorists.
Also Read: Imran Khan At Hospital For Stomach Pain Diagnosis