RAWALPINDI: New army chief General Asim Munir took over the command of Pakistan army on Tuesday morning from General Qamar Javed Bajwa. General Syed Asim Munir is Pakistan's first Hafiz-e-Quran army chief.
General Asim Munir became the 17th army chief of the Pakistan Army. General Bajwa handed over baton of command to the new chief of army staff at a grand ceremony held at GHQ in Rawalpindi on Tuesday morning.
The change of command ceremony marks the tradition that symbolises the seamless transition of military leadership.
Outgoing army chief congratulated his successor Gen Asim Munir for being promoted to the four star rank and as the chief of army staff.
"I have full faith that under his leadership army will reach new heights and his appointment will prove to be a positive for the country," said Gen Bajwa. He added that he was happy to know that he was retiring by handing the army to an able officer like Gen Munir.
Gen Bajwa said that his journey in the army started 44 years ago and has ended today.
The change of command ceremony was attended by Chairman Joint Chiefs of Staff Committee Gen Sahir Shamshad Mirza, Chief of Air Staff Air Chief Marshal Zaheer Ahmad Babar Sidhu. The former military leadership was also present at the ceremony.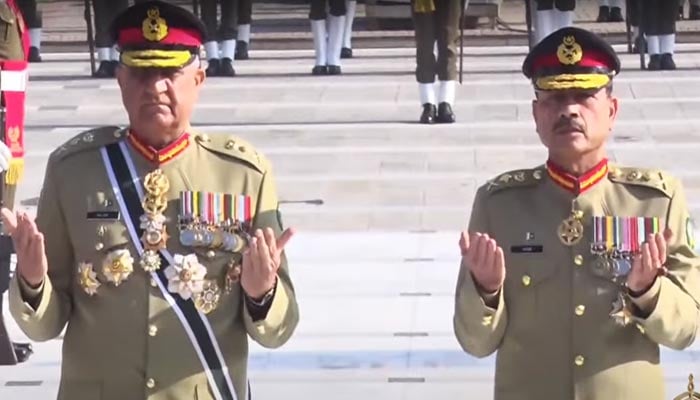 Before the ceremony, Gen Bajwa visited the Yadgar-e-Shuhda for the last time as chief of army staff. Gen Munir had accompanied him during the visit.
Gen Munir was chosen to lead the country's army by Prime Minister Shehbaz Sharif on November 24. The summary of his appointment was ratified by President Arif Alvi the same day.