ISLAMABAD: Education Minister Shafqat Mahmood said on Wednesday that all educational institutions in seven cities of Punjab will close down from March 15 for two weeks due to a surge in Covid-19 cases.
"Educational institutions in Faisalabad, Gujranwala, Lahore, Gujarat, Multan, Rawalpindi, and Silakot will be closed from March 15 for spring holidays until March 28," Shafqat said.
The same would apply for schools in Islamabad and Peshawar.
According to the education minister, situation in Muzaffarabad was being reviewed at the moment and a decision regarding it will be taken accordingly.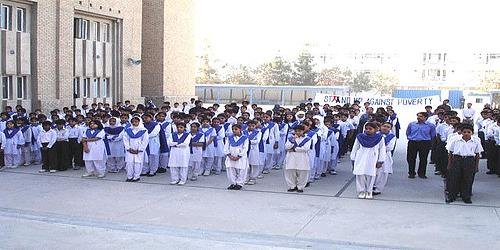 Mahmood announced the decision during a media briefing held following a meeting of the National Command and Operation Centre (NCOC). Special Advisor Prime Minister on Health Dr Faisal Sultan was also present on the occasion.
He added that the government will review the situation in April and make further decisions, further allowing schools to review the situation related to the cases on their own and take decisions accordingly.
Gatherings Indoor
Speaking on the occasion, Dr Sultan informed that the government has decided to withdraw the permission given to resume indoor weddings, dine-in, cinemas and shrines, in view of the current circumstances.
"The indication that was earlier given for March 15 for indoor gatherings is being withdrawn, while directions for outdoor gathering will remain the same," he added.
The health advisor further appealed to the people to adhere to the SOPs, including observing social distancing and wearing masks since cases had surged again.
Punjab Minister for Education Murad Raas also tweeted regarding the decision announced following the NCOC meeting.
On March 8, the NCOC decided to revisit the modalities of reopening schools in the prevailing rising trend of Covid-19 across the country.
Earlier, in February, with the novel coronavirus cases dropping in Pakistan, the federal government decided to lift the time limit for commercial activities and amusement parks as well as the condition for public/private offices to enforce 50% work-from-home policy for staff.
Covid-19 first emerged in the country in February last year and hit a peak in mid-June. However, it started to decline in the following months but surged again in October 2020, prompting the government to issue a warning of a second wave.
Earlier, during the same month, the NCOC unveiled a comprehensive plan to administer the vaccine for the Covid-19 across the country. It said that the vaccine strategy plan had been formulated by the federation in consultation with all provinces and stakeholders.