ISLAMABAD: The Central Superior Service (CSS) Exams 2023 upheld the tradition of triggering controversy in Pakistan.
In the CSS Exam-2023, the 10th question "Boys will be Boys" has generated a mixed reaction from social media users. Some people are supporting the question while others are damning it terming it a discriminatory question.
One of the students, who appeared in the recent 2023 CSS Exams, shared the image of the question paper, carrying a total of 10 questions. The most debated and controversial one is the 10th question "Boys will be Boys."
Below are the CSS-2023 Essay Exam questions. Essay Exam was conducted on Feb 1, 2023:
Instruction in youth is like engraving in stone.
The one who uses force is afraid of reasoning.
Not all recycling projects are cost effective.
The fool speaks, and the wise listens.
A friend walks in when everyone else walks out.
Online learning is not only convenient but often more effective than traditional classroom instruction.
To encourage healthy eating, higher taxes should be imposed on soft drinks and junk food.
People have become overly dependent on technology.
Both parents should assume equal responsibility in raising a child
Boys will be boys.
Though some of the questions are controversial, the last one (10th question) has become a hot topic on social media. Many youngsters are expressing their opinion in favor and against this question.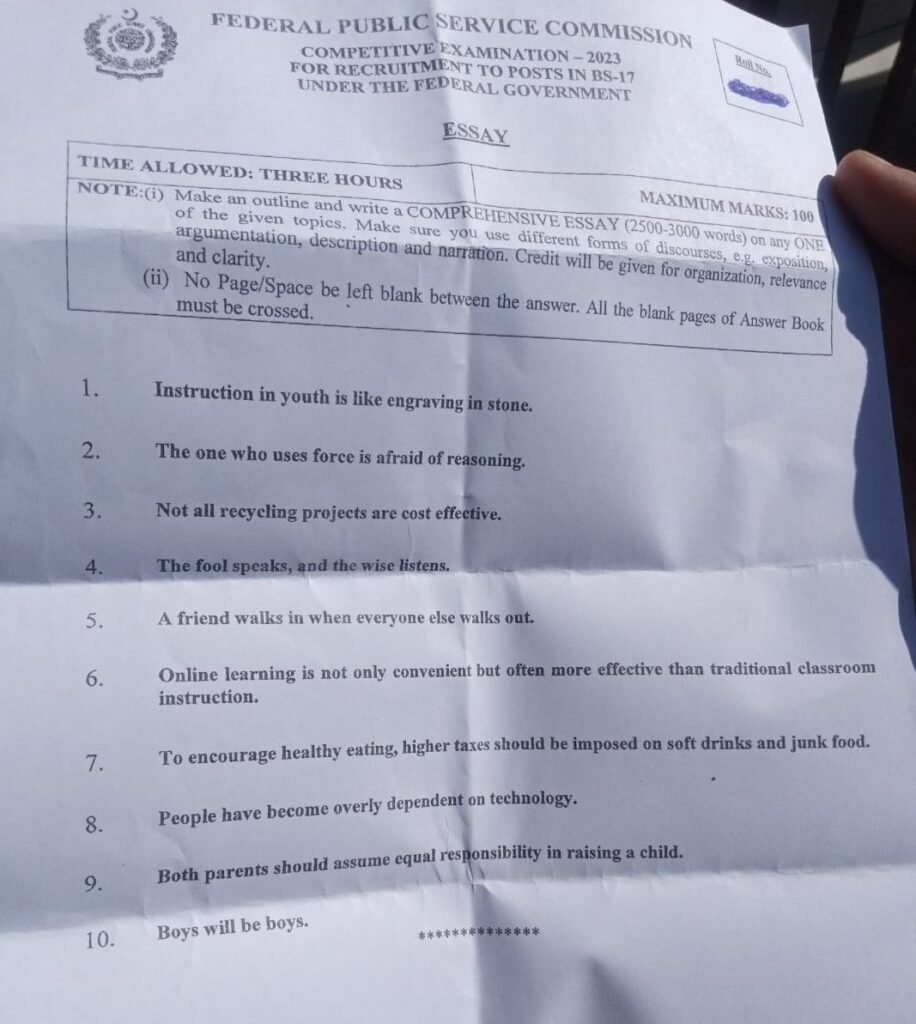 Meanwhile, 393 candidates qualified in the CSS 2022 written examination. Approximately 393 candidates passed the competitive exams, slightly more than 365 who passed this exam in 2021.
The FPSC previously announced the Special CSS Examination, which will take place on May 4, 2023, will consider the candidates' fourth (additional) attempt.
The commission took this action to fill positions that had been vacant for some time due to a very low passing rate on the primary CSS exam.
According to the FPSC, the MPT was scheduled for Jan 31, 2023, and its results will be released on Feb 15, 2023.
The Commission, therefore, advised the candidates to frequently check the FPSC website for updates and dial 051-111-000-248 to get answer to their questions.