ISLAMABAD: Lahore-based young Pakistani, Farhan Wilayat Butt, has won two international awards for his humanitarian services and green environment works in the country.
The banker-turned-social activist, Farhan Wilayat Butt, is doing social welfare works for the past many years, especially provision of clean drinking water in Thar, Cholistan in Sindh province and supply of food items to needy people in different cities including Lahore.
The Green Apple Environment Awards
The Green Apple Environment Awards of United Kingdom were established in 1994 and have become one of the world's most prestigious recognition campaigns. These awards have become internationally recognised for identifying professionals who demonstrate environmental best practices. The awards attract hundreds of entries each year and a selected few are invited to the presentation ceremony at the Houses of Parliament, London.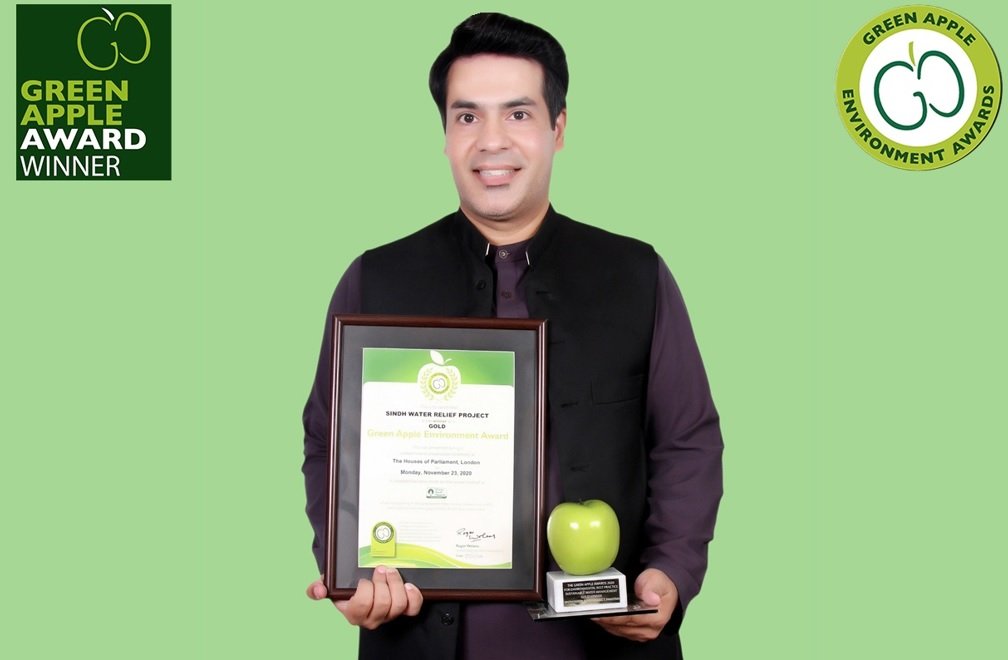 This year (2021), this award has been presented to Farhan Wilayat Butt on his efforts for arrangement of clean drinking water in the desert areas of Sindh Province. Mr. Butt started "Sindh Water Relief Project" in year 2012 for constriction of water-wells and installation of hand-pumps in the villages of Tharparkar desert (as water shortage is a major problem in the areas of Tharparkar and the groundwater that people here consume is saline to brackish, and has a high concentration of various salts and minerals, which are dangerous for human, as well as livestock health and for this, deeper wells are the only possible solutions).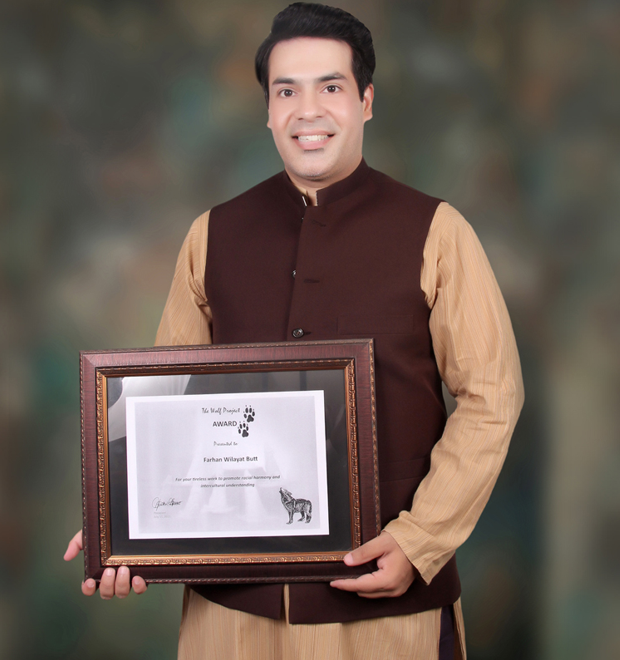 The Wolf Award (Canada) achieved by Farhan Wilayat Butt
The Wolf Award is an accolade conferred by a Canadian non-profit organization known as The Wolf Project to individuals, organizations, and communities in recognition of their efforts to reduce racial intolerance and to improve peace and understanding. The Wolf Award consists of a certificate of appreciation and a sculpture of a howling wolf, presented in ceremonial fashion to the recipient. The symbol of the wolf was chosen by the organizers because the founders of The Wolf Project felt that wolves serve as a reminder that society's survival depends upon cooperation and collaboration. The prestigious award was first time received by Nelson Mandela (1918 – 2013) for his work in human rights advocacy. The award was presented in 1995 in South Africa by Canadian aboriginal leaders Phil Fontaine and George Muswagon.

This year (2021), this award has been presented to Farhan Wilayat Butt (a Pakistani humanitarian and peace activist) who has been raising his voice for the rights and protection of religious minorities in Pakistan, as well as, to reduce religious extremism, racial intolerance and sectarian violence for last ten years. In order to create unity and brotherhood among all Pakistani people regardless of cultural, religious, sectarian and ethnic differences, he conducts peace tours, interviews and short theater performances on different occasions/ festivals for proper awareness and understanding about religious minorities in Pakistan. In addition to this, Farhan Wilayat Butt is also engaged with various charity and public-welfare projects in underprivileged and less-fortunate areas of Pakistan.
In addition to these two international awards, Farhan Wilayat Butt has also received many other awards in Pakistan and other countries for his dedicated humanitarian services.