The US Mission and International Narcotics and Law Enforcement Affairs (INL) delegation, led by US Ambassador Donald A Blome, met with Inspector General of Police (IGP) Akhtar Hayat Khan on Thursday.
The delegation included Panfilo Marquez, US Consul General Peshawar Consulate, Lori J Antolene, Director Nick Katsakis, Political-Economic Section Chief, and Ahsan Ali, Programme Coordinator INL.
The delegation, during the meeting, assured full cooperation in meeting the capacity-building requirements of the Khyber-Pakhtunkhwa (K-P) police, and they discussed various activities launched by the INL to enhance the manpower capabilities of the K-P police.
IGP Akhtar Hayat Khan informed the delegation about the training programme and scientific investigation provided to the police personnel, re-organization and upgradation of the counter-terrorism department to effectively combat terrorism, and modern technology-based policing.
Furthermore, the US ambassador inaugurated the US-Aid project 'USAID Economic Recovery and Development Activity' at a local hotel in Peshawar.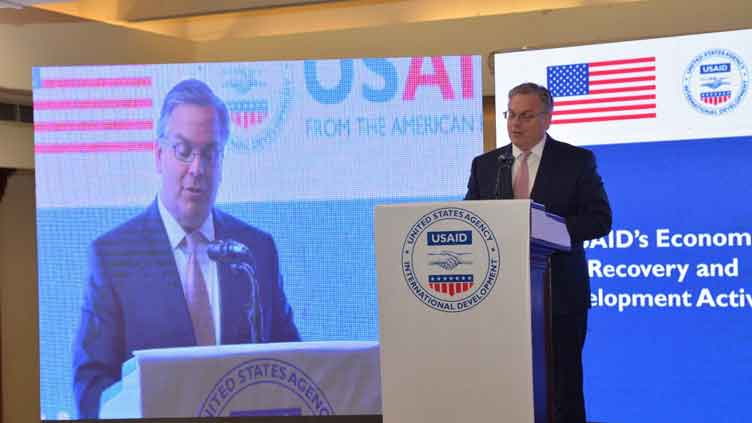 During his address, he said that the American people and US-Aid project in Pakistan have changed the lives of poor people, and the support will continue until Pakistan is on the pathway of economic development.
He added that the US-government-funded ERDA is a five-year initiative, aimed at expanding economic opportunities in K-P and will cover the merged areas too by modernizing the agriculture sector and promoting micro, small, and medium enterprises.
The US government and its aid agencies supported around 2.5 million flood victims, and the activity will directly benefit more than 2,000 enterprises and 56,000 farming families across the province.
Read More: Libya Boat Tragedy: FIA Arrests 'Human Trafficker' From Gujrat