ISLAMABAD: United Nation (UN) Secretary-General Antonio Guterres today condemned strongly the gory suicide blast in Peshawar Police Lines Mosque. Guterres called the blast an "abhorrent" act of terrorism.
In a tweet, the UN chief said, "It is abhorrent that the attack occurred at a place of worship. Freedom of religion or belief, including the ability to worship in peace & security, is a universal human right."
The United Nations secretary general added, "he extends his heartfelt condolences to the victims and their families, and expresses his solidarity with the people and government of Pakistan"
Meanwhile, on Tuesday morning, the death toll of the suicide blast in Police Lines mosque in Peshawar surged to 90 on Tuesday morning as doctors reported more casualties. Till Monday night, the number of casualties stood at 44, which increased to 90 by Tuesday morning, according to doctors.
In the picture blow, PM Shehbaz Sharif and army chief General Asim Munir visited Lady Reading Hospital in Peshawar to meet the injured police officials.
About 100 people are still in the hospitals with wounds they sustained from the suicide blast during Zohr prayers in Police Lines mosque in Peshawar.
According to media reports, a suicide bomber, standing in the front row during Zohr prayers, blew himself up in the mosque on Monday at 1pm.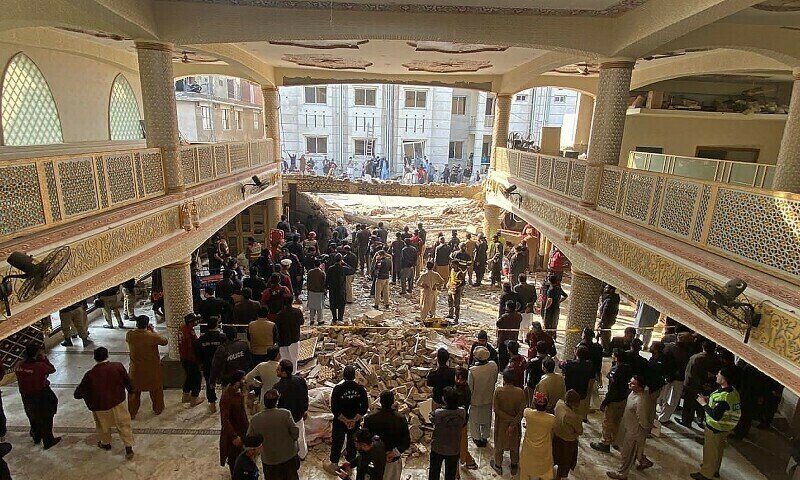 Roof of the mosque also collapsed on the worshipers which caused more casualties and fatalities.
Meanwhile, Caretaker Chief Minister of Khyber Pakhtunkhwa Muhammad Azam Khan has announced a day of mourning in the province on Tuesday.
He said, the national flag will be at half-mast across the province.
Earlier, the death toll in the Peshawar Police Lines Mosque increased to 44 on Monday evening. The number of injured worshipers was also reported around 150.
According to security officials, the suicide attacker was present in the front row during the prayers when he exploded himself, injuring dozens of faithful offering Zohr prayers.
Peshawar Deputy Commissioner Shafi Ullah Khan has confirmed 44 casualties of worshipers. On Tuesday, the number casualties surged to 90.
According to media reports, Tehrik-e-Taliban Pakistan (TTP) has claimed responsibility for the most tragic suicide blast in Peshawar.
The suicide attacker was present in the front row of the mosque during the Zohr prayers. He exploded himself, killing two cops and injuring dozens of faithful offering Zohr prayers.