Supreme court reserves its verdict on judicial commission probing audio leaks: Govt raises objection to cJP's inclusion in the larger bench
ISLAMABAD: The larger bench of the Supreme Court of Pakistan headed by chief justice reserved its verdict on Friday about the three-member Judicial Commission probing the audio leaks.
The bench heard the petitions which challenged the Judicial Commission and reserved the verdict.
Earlier, the Advocate General of Pakistan raised objection to the Chief Justice of Pakistan (CJP) Umar Ata Bandial's inclusion in the five-member bench hearing pleas challenging the formation of a judicial commission probing audio leaks involving judges, their family members, and politicians.
The CJP constituted the larger bench to conduct hearing of the pleas filed under Article 184(3) of the Constitution.
Pakistan Tehreek-e-Insaf (PTI) Chairman Imran Khan, Muqtedir Akhtar Shabbir, Advocate Riaz Hanif and Supreme Court Bar Association President Abid Shah Zubairi challenged the three-member Judicial Commission headed by Justice Qazi Faez Isa.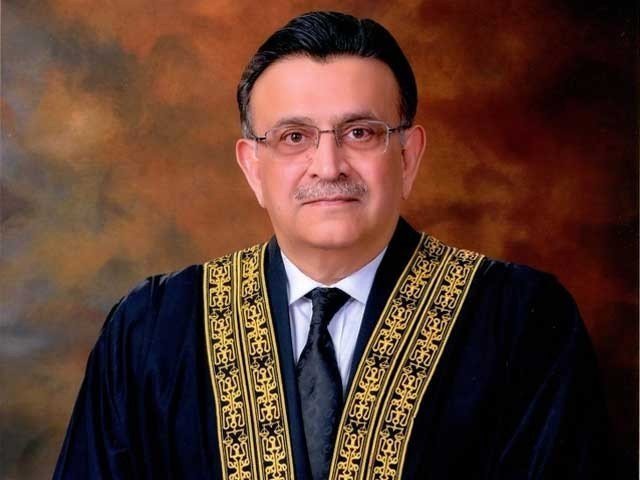 Chief Justice of Pakistan Bandial is the head of the larger bench and it comprises Justice Ijaz Ul Ahsan, Justice Munib Akhtar, Justice Syed Hassan Azhar Rizvi and Justice Shahid Waheed.
When hearing of the case started on Friday morning, Attorney General for Pakistan (AGP) Mansoor Usman Awan asked CJP Bandial to excuse himself.
He said, "It is requested that the chief justice should not be a part of this bench."
Responding to the AGP, CJP Bandial asked if he meant for him to leave the bench. "You should not interfere with our administrative authority."
The top supreme court judge added that while he respects the request made by Awan, the post of the chief justice is constitutional.
"I knew you would raise this objection. The judiciary is not subservient to the government. There is a division of authority in the Constitution," he remarked.
"The judiciary is the protector of basic human rights. We fully respect the government," the chief justice said addressing Awan.
The country's top judge also lamented over the government's "hasty" decision to enact legislation regulating the chief justice's powers.