According to Pakistan International Airlines, employees who violate the smoking ban during flights will be fined Rs. 100,000. (PIA).
The PIA management was made aware of a staff member who was observed smoking onboard.
Employees who are caught smoking on flights will face an Rs. 100,000 fine each.
A recent Safety Assessment of Foreign Aircraft (SAFA) inspection of one of the national flag carrier's aircraft revealed that the cockpit crew had violated the "NO SMOKING ON BOARD" policy, according to the national flag carrier's management.
According to the airline, smoking is prohibited on board at all times.
Any crew member found in violation of the rules could face a fine of up to Rs. 100,000.
According to previous circulars, other staff members are supposed to report such offences.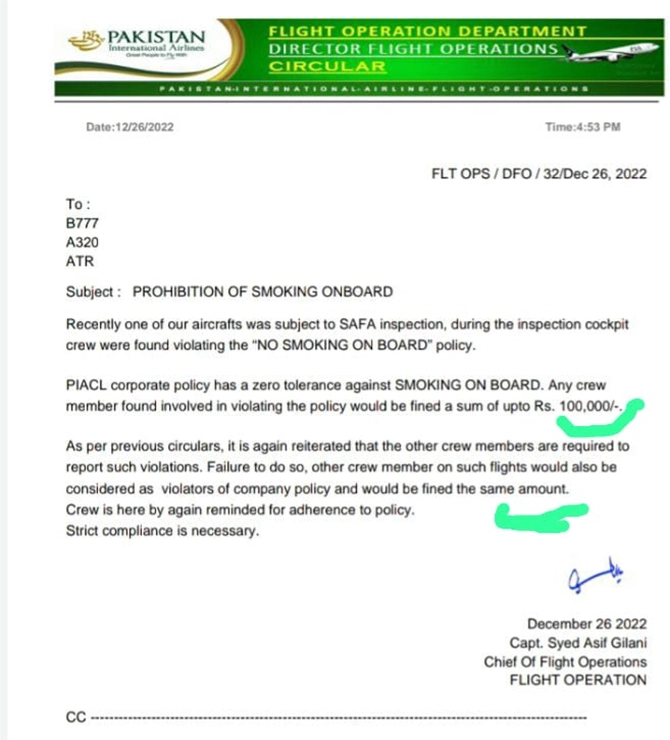 The airline stated that the employees must strictly follow the order.
"Failure to do so, other crew members on such flights would also be considered as violators of company policy and would be fined the same amount."
Earlier,
Foggy Conditions In Lahore Compel Shift In PIA Flight Operations
Lahore: Poor visibility and fog in Lahore, forced Pakistan International Airlines to shift all international flight operations between 10 pm and 11 am from the capital of Punjab to Islamabad.
The rescheduling of flights during these hours is temporary and will be restored as soon as the foggy conditions improve, according to the national flag carrier.
A PIA spokesman said, in a press release issued, the in­­ternational flight operations between 10 pm and 11 am was moved from Allama Iqbal Inter­national Airport to Islamabad due to foggy weather conditions.
The move was aimed at ensuring air safety and saving long waiting times for passengers, he claimed.
For timely information of flights, air travelers, as well as those visiting the airport to pick up or drop off passengers, have been requested to contact the PIA call center at 786786111.
PIA passengers have also been requested to record their correct contact number at the time of booking so that they can be provided with timely information about changes in flight timings through call or SMS.