Sibi Suicide Blast: 9 Dead and 11 Injured in Tragic Incident:
On Monday morning, media reports stated that there was an explosion in the Sibi district of Balochistan's Bolan.
A suicide bomber killed nine personnel of the Balochistan constabulary and injured at least 11 others near one of their buses.
The incident took place near Kambari Bridge in Sibi.
The authorities dispatched the bomb disposal squad to the area to sweep for any other explosive materials that may be present to ensure public safety.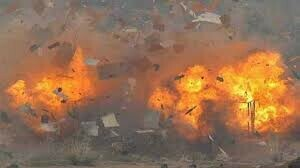 The authorities are currently working to secure the area and provide medical assistance to those affected by the blast, as the situation remains tense.
Police and other security personnel have arrived at the site and cordoned it off, while they move the injured persons to nearby hospitals.
Moreover, The authorities are currently conducting an investigation to gather more information about the incident.
They have also urged the public to remain vigilant and report any suspicious activities or objects in the area.
Read More: Suicide Blast In Peshawar Mosque: Death Toll Rises To 44 While 150 Sustained Injuries
.
.
.
The situation is currently evolving and this is a developing story, which will be updated accordingly.
Read More: Suicide Bomber Blew Up Peshawar Police Lines Mosque: IG KP