LAHORE/ISLAMABAD: The Punjab Assembly stands dissolved after Punjab Governor Baligh Ur Rehman did not sign the summary that chief minister Pervez Elahi sent to him two days ago.
Parvez Elahi — who will remain chief minister till the appointment of a caretaker CM — sent summary of dissolution of assembly to Governor Punjab on Thursday. As per the Constitution, the assembly would dissolve within 48 hours whether Punjab Governor Punjab endorses it or not.
Governor Punjab who belongs to the Pakistan Muslim League-Nawaz—refrained from the dissolution process and decided to let the Constitution take its course.
Governor said, "I have decided not to become part of the process leading to the dissolution of Punjab Assembly. I would rather let the Constitution and law take its own course."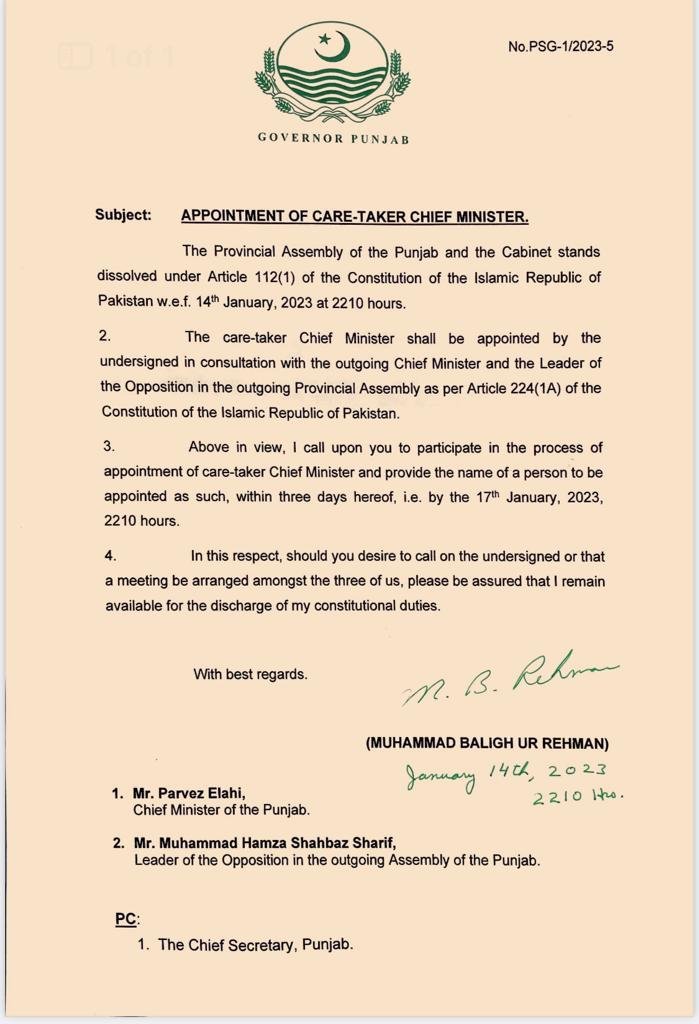 Governor Punjab said he would appoint the caretaker chief minister after consulting the outgoing CM and opposition leader Hamza Shehbaz.
Governor Punjab wrote a letter to Pervez Elahi and Hamza Shehbaz asking them to be available for consultation within three days from today (till Jan 7) to finalize name of the caretaker chief minister of Punjab.
As the Punjab Assembly stands dissolved today, PTI has decided to dissolve Khyber Pakhtunkhwa Assembly in next few hours to uphold PTI chairman's announcement that the party will dissolve Punjab and KP assemblies.