PTI's Fawad Chaudhary also arrested from outside the Supreme Court
ISLAMABAD: PTI leader Fawad Chaudhary was also arrested on Wednesday night from outside the Supreme Court building.
The senior PTI leader remained inside the Supreme Court since 11 am (for more than 12 hours) just to evade arrest. However, police arrested him the moment he came out of the building of the apex court on Wednesday night.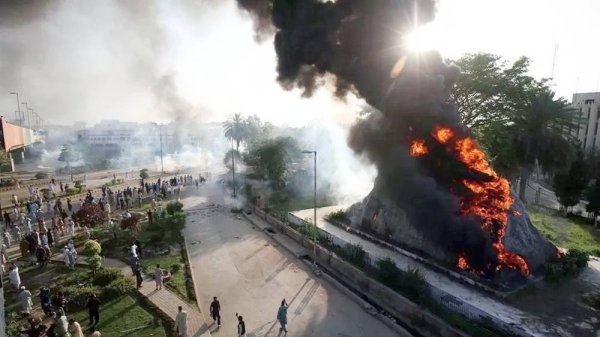 The Islamabad police detained Fawad Chaudhry under Section 3 of the Maintenance of Public Ordinance (MPO) and shifted him to the Secretariat Police Station.
Earlier, the Anti-Terrorist Squad arrested PTI Secretary General Asad Umar from the premises of the IHC on Wednesday.
The Islamabad police's ATS officials picked up Asad Umar from outside the IHC Bar Room. Asad Umar and other PTI leaders were preparing a plea to file their case in the IHC seeking a meeting with Khan.
Meanwhile, Prime Minister Shehbaz Sharif and Pakistan Army warned the PTI's rioters of serious consequences for ransacking public and private properties.
PM Shehbaz that stern action would be taken against the "state's enemies" as he lambasted the PTI for violence that gripped the country soon after the arrest of PTI Chairman Imran Khan in the Al-Qadir Trust corruption case.
Addressing the nation today, PM said, "The miscreants will be dealt with iron hands. They will be punished according to the law."
Premier urged the PTI protesters to "anti-state activities" forthwith.
Shehbaz Sharif hailed the nation for "rejecting anti-state agenda". He also praised law enforcement agencies, including the military, for showing restraint in the face of violent protests.
Prime Minister accused PTI leadership of instigating a "few hundred armed workers" to attack the Pakistan Army.
Pakistan Army's warning to PTI saboteurs
Meanwhile, the armed forces said that PTI Chairman Imran Khan's arrest would go down in history as a "dark chapter".
In a statement, the ISPR said after Imran Khan's arrest, a "well-thought-out plan" was witnessed in which the army was targetted.
"Soon after [Khan's arrest], there were organised attacks on army properties and installations, and anti-army slogans were raised," the ISPR added.
The ISPR called the PTI leaders "hypocrites" for inciting their workers against the armed forces on the one hand, and other, they were praising the military — in a bid to overshadow their criticism.