Authorities have reported that a wooden sailing boat carrying migrants from Pakistan, Afghanistan, Iran, and several other countries, crashed against rocks on the southern Italian coast on Sunday, resulting in the death of fifty-nine individuals, including some children.
Boat Incident
The boat had departed from Turkiye several days prior to the accident, and the crash occurred in stormy weather near Steccato di Cutro, a seaside resort located on the eastern coast of Calabria.
Crotone mayor Vincenzo Voce said:
"As of a few minutes ago, the number of confirmed victims was 59."
At least 59 migrants, including 11 children and a newborn baby,
died after their overloaded boat sank early on Sunday in stormy seas off Italy's southern Calabria region
A total of 81 people survived the incident, out of which 22 survivors were taken to the hospital.
According to Curra:
Survivors reported that around 140 to 150 migrants from Afghanistan, Pakistan, and Somalia were on board when the boat departed from Izmir in eastern Turkey three or four days ago.
Although identifying the nationalities of the deceased is difficult,
Most of the survivors were from Afghanistan with a few from Pakistan and Somalia.
In addition, One of the survivors was arrested by the Guardia di Finanza customs police on charges of migrant trafficking.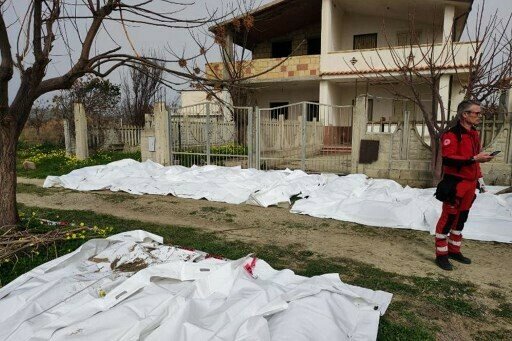 Ceraso Told The Sky TG24 News Channel:
"a spectacle that you would never want to see in your life … a gruesome sight … that stays with you for all your life".
Wreckage from the Turkish wooden gulet, a sailing boat, was scattered over a wide area of the coast.
Italian President Sergio Mattarella stated:
"Many of these migrants came from Afghanistan and Iran, fleeing conditions of great hardship."
Ignazio Mangione, an official of the Italian Red Cross, stated:
Only a few children who were believed to be on the boat managed to survive.
'Illusory mirage'
Italian Prime Minister Giorgia Meloni expressed "deep sorrow" for the deaths caused by human traffickers, and she vowed to prevent such disasters by blocking migrant sea departures.
Italian Interior Minister Matteo Piantedosi, in a separate statement, emphasized the importance of stopping sea crossings that offer migrants the "illusory mirage of a better life" in Europe.
Additionally,
He stated that such crossings enrich traffickers and cause tragedies like this.
Furthermore,
Pope Francis, the son of Italian immigrants to Argentina and a vocal advocate for migrants' rights offered his prayers for everyone affected by the shipwreck.