LHC orders to stop operation at Zaman Park to arrest Imran Khan
LAHORE/ISLAMABAD: Lahore High Court today ordered Punjab police to stop operation at Zaman Park to arrest Imran Khan.
LHC Tariq Saleem Sheikh directed the IG Punjab Police and Chief Secretary to stop operation immediately.
Earlier, Former prime minister and PTI chairman today said that his house in Zaman Park was under an immense attack since Tuesday noon.
In his latest tweet, Khan said that the officials of police and Rangers are using tear gas and opening straight fire on PTI workers.
Imran Khan also gathered dozens of empty teargas shells and displayed them on a table while he is sitting on a side.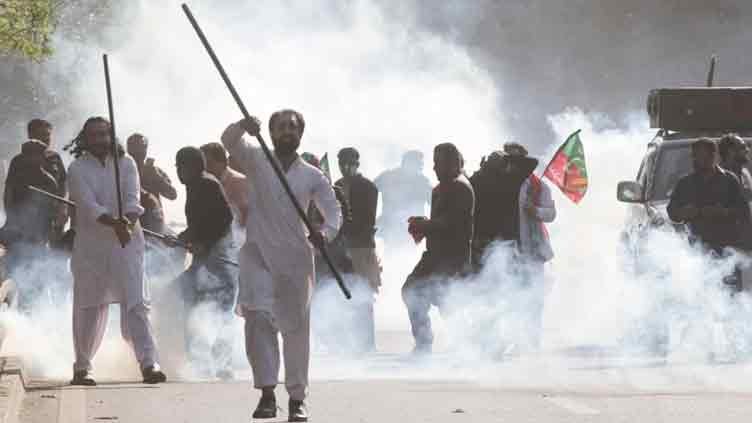 He just shared one glimpse of extensive use of teargas shelling on the PTI workers, standing outside Khan's Zaman Park resident to foil arrest.
Meanwhile, Imran Khan taunted the establishment about their neutrality as the police and Rangers officials reached near the entrance of Zaman Park on Wednesday to arrest Khan in Toshakhana case.
The law enforcement agencies have called in more water cannons, tear-gas shelling vehicles, and security personnel to arrest PTI chairman Imran Khan amid growing clashes with PTI supporters.
In his tweet issued on Wednesday morning, Khan said, "After our workers and leadership faced police onslaught since yesterday morning of tear gas, cannons with chemical water, rubber bullets, and live bullets this morning; we now have Rangers taking over and are now in direct confrontation with the people."
Khan further said, "My question to the establishment, to those who claim they are 'neutral': Is this your idea of neutrality, Rangers directly confronting unarmed protestors and leadership of the largest political party when their leader is facing an illegal warrant and case already in court and when the government of crooks trying to abduct and possibly murder him (Imran Khan)?"
Clashes are still going on between police and supporters of Pakistan Tehrik-e-Insaf in Lahore after police and Rangers reached Zaman Park to arrest Imran Khan.