ISLAMABAD: The Khyber-Pakhtunkhwa government, through its joint investigation team (JIT), has identified the mastermind behind the use of covert Bluetooth devices for cheating during the Medical and Dental College Admission Test (MDCAT). However, the JIT has chosen not to disclose his name at this time.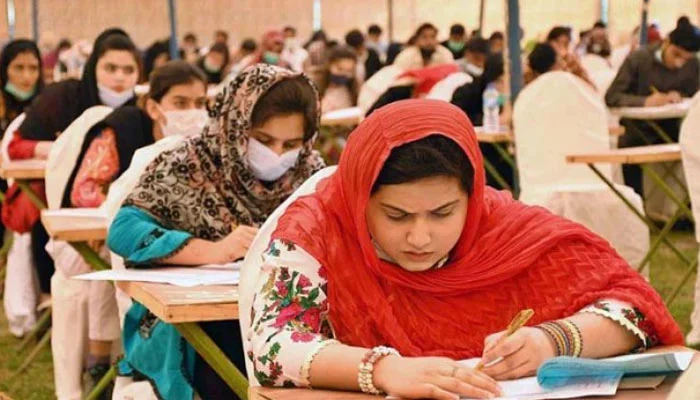 According to JIT sources, the mastermind was an employee of the Public Service Commission and the Federal Public Service Commission who was fired for illegal activities.
The leader "who runs the network" hails from Karak district.
As he has already served in the commissions, the sources said, the accused knows the weaknesses of the testing system and is an expert in hijacking the test. They revealed that the accused procured the topnotch Bluetooth devices from China.
The sources said that the accused used to lure the MDCAT candidates at the academies into cheating.
The sources added that the accused received millions of rupees from candidates to help them pass the MDCAT.
Last week, the Peshawar High Court (PHC) ordered to withhold the MDCAT results on petitions filed by students regarding the use of covert Bluetooth devices for cheating in the examination hall.
The court issued orders to the chief secretary, executive director of the Education Test and Evaluation Agency (ETEA), and the registrar of the Pakistan Medical and Dental Council to provide responses regarding these allegations.
Additionally, the court temporarily prohibited the ETEA from publishing the official results on its website pending further investigation.
Justice Syed Arshad Ali of the PHC presided over the hearing of the cases pertaining to the use of covert Bluetooth devices for cheating in the MDCAT.
The court ordered the postponement of uploading MDCAT results on the official website until the next hearing. Later, the court adjourned the hearing till Sept 21.
K-P's Swift Response to MDCAT Cheating
The K-P government formed the JIT to probe into the use of covert Bluetooth devices in the MDCAT on the protests by parents and submit its report within a week.
On September 10, K-P Chief Secretary Nadeem Aslam Chaudhry firmly opposed dishonest tactics during the MDCAT as authorities caught over 40 students attempting to use covert Bluetooth devices with micro earpieces during the examination.
The K-P Interior and Tribal Affairs Department established a seven-member JIT, chaired by the IG special branch, with members including the higher education special secretary, special secretary health, Home Department additional secretary, and representatives from the Intelligence Bureau and Khyber Medical University. Authorities promptly seized the electronic devices and invalidated the candidature of the implicated students.