ISLAMABAD: A complete panel of the Supreme Court, led by Chief Justice of Pakistan Qazi Faez Isa, is currently deliberating various petitions challenging the Practice and Procedure Act. In a momentous move, these proceedings are being publicly televised for the first time.
The Supreme Court has installed four cameras in the guest gallery, with one positioned at the dais.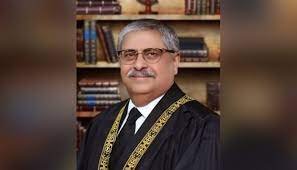 The federal government has requested the rejection of all applications against the Supreme Court (Practice and Procedure) Act case. Additionally, it has submitted a written reply to the court.
Supreme Court Debate: Practice and Procedure Act Scrutinized
The government's petition argues that challenging parliamentary acts is not valid and that Parliament can legislate under Article 191 without affecting judicial independence.
The petition also asserts that the Practice and Procedure Act doesn't diminish the Supreme Court's authority and deems petitions against parliamentary laws inadmissible.
Chief Justice inquired about representatives for nine petitioners and noted the full court's formation at the Pakistan Bar Council's request. Justice Ayesha Malik asked about implications for Section 5 and its right to appeal.
Khawaja Tariq Rahim, a petitioner's counsel, claimed Parliament interfered with Supreme Court rules. The Chief Justice questioned if the entire law or only some provisions were problematic.
The lawyer argued Parliament's legislative power is subject to the Constitution, with rule-making belonging to the Supreme Court. Justice Minallah asked if the lawyer believed the Chief Justice should solely form benches; he disagreed.
Moreover, Justice Musarrat Hilali questioned if the law rendered the Chief Justice powerless. Justice Akhtar raised the idea of pursuing a constitutional amendment instead of simple legislation.
The lawyer stated Section 5 of the Act was unconstitutional.
Justice Minullah stressed the importance of both external and internal judicial independence, with Parliament focusing on internal independence with this law.
Debating the Balance of Power
Khawaja Tariq Rahim remarked that if someone else interferes in the internal affairs of the Supreme Court, it would no longer be the Supreme Court.
Chief Justice Isa affirmed his commitment to the Constitution, denying suo motu action.
Justice Mandokhel questioned if counsel aimed to limit parliament's authority. Additionally, Justice Ahsan asked if parliament could change Supreme Court rules through legislation.
Justice Isa warned against making the Chief Justice unaccountable due to potential delays.
Justice Minallah argued that sharing authority enhances judicial independence. CJP Isa cited his accountability to law, not the Supreme Court.
Imtiaz Siddiqui argued the law violates human rights. Justice Shah noted international CJP practices. Imtiaz Siddiqui said parliament can't dictate judiciary rules.