ISLAMABAD: Jamaat-e-Islamic and traders in Islamabad particularly H13 sector will, once again, block Sri Nagar (Kashmir Highway) on Friday (tomorrow) in case Islamabad police and administration did not identify the killer-cops of dairy trader Imran Shahid Tarar.
According to sources, Amir of JI Moulana Siraj-ul-Haq visited H13 and met with the family members of Imran Shahid who was allegedly shot dead by Eagle Squad policemen after midnight on last Friday, when he was going to near PSO Petrol Pump, after closing his dairy-milk shop in Abu Bakar Plaza in H-13/3 sector in Islamabad. PSO Petrol Pump is hardly a kilometer away from his shop and it is the only available petrol pump in H13/G13 sectors for the motorists. Thus, dairy trader was shot dead allegedly by Eagle Squad cops hardly a kilometer away from his shop last Friday.
Amir Jamaat-e-Islami told the relatives of the deceased and people of H13 that his party has given Friday (Sept 10) deadline to identify the killers and in case of failure, the highway will be blocked once again.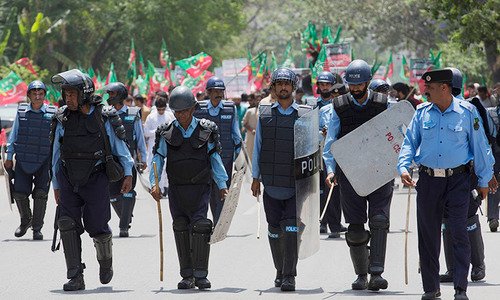 Notably, on last Saturday, the police did not register any case against the Eagle Squad cops involved in the killing of the milk/dairy items merchant (owner of Rehrka shop), but when the traders blocked Sri Nagar (Kashmir Highway) on Saturday for more than five hours, the police was left with no other choice but to register a case against four policemen of the area.
On Saturday many flights were cancelled as the passengers going towards the Islamabad International Airport got stranded on the road due to protest of the traders. If Jamaat-e-Islami and traders again blocked the main highway, thousands of passengers and motorists will face serious hardship like last Saturday.
The policemen were booked after traders and relatives of the deceased trader staged a five-hour-long protest on Kashmir Highway while placing the body on the road. The traders called off their protest after the FIR was registered against the police officers.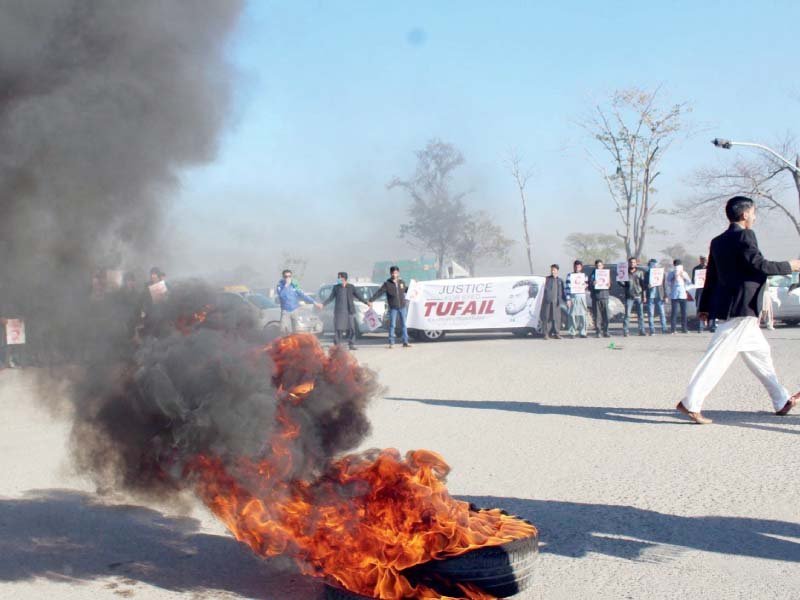 Rabeel Haider, helper of the victim trader, was also injured in the alleged police encounter. According to the FIR, the police officers opened fire on Imran Shahid Tarar and Rabeel despite their repeated plea with the policemen that they were businessmen. According to the FIR, the policemen did not listen to them and shot one dead and seriously injured another.
Earlier, the deceased's brother-in-law lodged a complaint with the Shams Colony police that Imran, along with Rabeel, was going to a nearby petrol pump on Kashmir Highway on a motorcycle when the Islamabad police personnel opened fire at them.
The robbers opened fire as soon as the police team reached the scene; the spokesperson said adding that one passerby was injured by the firing of robbers. The robbers fled taking advantage of the darkness, he said, adding that police teams have been formed to arrest the fleeing robbers.