ISLAMABAD: The most-wanted notorious dacoit and leader of the Imrani gang, Gora Imrani, issued a video message offering to surrender to the police.
Gora Imrani, with a recommended head bounty of Rs1.5 million, expressed in a video statement his desire to surrender, along with his associates, and his willingness to give up weapons in favor of providing for his children.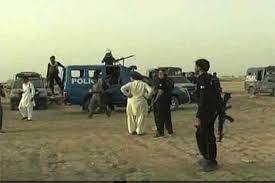 The Gang operates in the katcha areas situated in the outskirts of Punjab's Rajanpur city.
DPO Dost Muhammad stated that the gang's leader has a Rs1.5 million head bounty. They would deal him according to the law if he chooses to surrender to the police. He mentioned that the police have continued their operation against bandits in the katcha areas, resulting in 25 dacoits surrendering thus far.
The senior police officer also pointed out that there are warrants against Gora Imrani in 31 cases. He further stated that two members of his gang had already surrendered to the police two days ago.
Nine Killed And Some Wounded In Rocket Launcher Explosion In Kandhkot
Meanwhile, the incident unfolded when a family living in Nawaz Zai, a neighborhood near Ghora Ghat, tried to dismantle a rocket launcher their children had discovered, with the intention of selling it.
During the attempt, the rocket launcher detonated, resulting in the loss of nine lives, including four children and three women, and injuring three others.