Imran Khan's Zaman Park Residence Surrounded by Police, Raises Fears of Possible Arrest:
zaman Park
The chairman of Pakistan Tehreek-e-Insaf (PTI), Imran Khan stated on Wednesday that the police have reportedly surrounded his residence in Zaman Park, Lahore, where he currently resides.
He expressed concerns about the possibility of arrest.
In a Tweet, Imran Khan said: "Probably my last tweet before my next arrest. Police have [sic] surrounded my house."
9 May, the day of violent protests in the country, the same day that Khan was facing arrest in the Al-Qadir Trust corruption case.
Also Read: Jehangir Tareen Blames PTI For Vandalism, One More PTI Leader Quits Party
However, a court ultimately decided to grant him bail.
In a speech to party members, the former prime minister, who had been removed from power in April of the previous year, stated that he would not resist the police if they arrived with a search warrant to carry out an operation at his Zaman Park home.
While Addressing the supporters, PTI Chairman Imran Khan stated:
"I have just heard that 40 terrorists are hiding at my residence. Please do come here [but] in a civilised manner and don't attempt to storm my residence."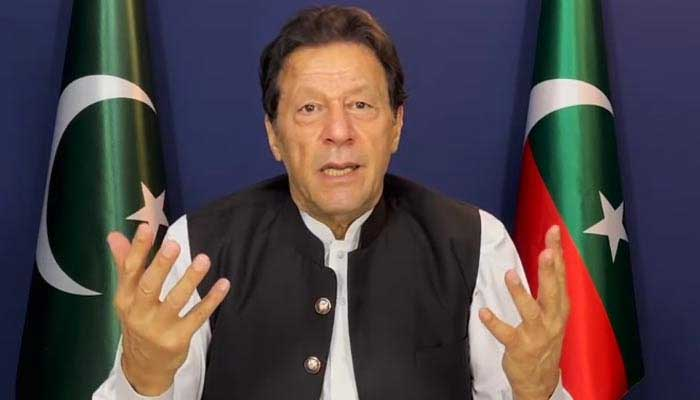 Information Minister Aamir Mir
During a press conference held earlier today in Lahore, Caretaker Information Minister Aamir Mir issued a 24-hour ultimatum to the PTI, demanding the surrender of the alleged "30-40 terrorists" who have sought refuge at the former prime minister's Zaman Park residence.
Mir emphasized that if PTI fails to comply, they will take legal action.
Also, Mir stated that the government possesses credible intelligence reports confirming the presence of these "terrorists."
He further highlighted the alarming nature of the intelligence findings and revealed that the agencies were able to verify the presence of the alleged individuals in Zaman Park through the use of geofencing technology.