KARACHI/ISLAMABAD: After launching the nation's "first-ever" Pink Bus Service for women in Karachi, the Sindh government has announced that the Pink Bus Service will also be introduced in Hyderabad.
Sharjeel Inam Memon (Sindh Information and archives minister) stated this at a news conference in Karachi. He made an announcement regarding the PINK Bus Service to be launched in Hyderabad on February 18th. He also stated that Pakistan is among those countries providing women with separate transport.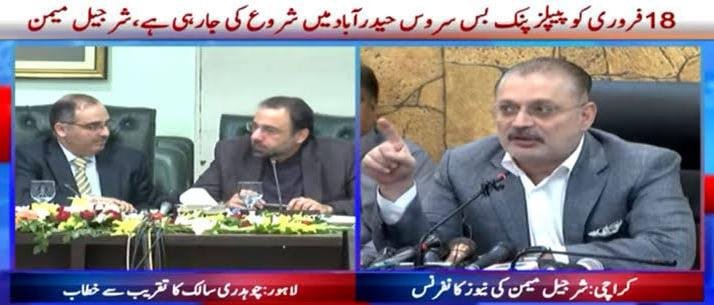 Sharjeel Inam Memon also disclosed new Pink Bus Service routes in Karachi.
This service will be launched on February 20th. He referred to the Peoples Bus Service as one of the best in the world. He also claimed that the development of the Pink Bus Service's routes will benefit female passengers.
Read more: Arshad Sharif's Case, Supreme Court rejects JIT report
Hyderabad's pink bus service to be launched
Previously, Sharjeel Inam Memon also announced the launch of the Pink Bus Service specifically for Pakistani women. He added that the pink bus service for women will be introduced in the first phase. The government has decided to launch taxi services in Karachi via Sindh Mass Transit Authority.
Aim of this initiative
The aim of this new service is to provide safe and reliable transportation for women. Moreover, the aim of this initiative is to promote women's rights.
The initiative is a collaborative effort between the government and the private sector. These advanced features include GPS tracking, panic buttons, and women-only seating.
The pink bus service will operate seven days a week at various popular locations in Hyderabad.
According to the organizers, the pink bus service is not just a transportation solution but also a symbol of progress and change. Along with inspiring other cities to launch similar initiatives, this initiative also contributes to the larger goal of empowering women in the country.
Many women are looking forward to using the service, as it offers them a comfortable and secure way to travel.
Therefore, the launch of the pink bus service is a significant step towards improving the lives of women in Hyderabad. The service is expected to be a great success. Moreover, it is expected to inspire similar initiatives in other cities in Pakistan.