Later this month, Prime Minister Shehbaz Sharif is going to inaugurate the Gwadar International Airport.
The Gwadar International Airport will assist the coastal city in attracting more local and foreign investors.
The Civil Aviation Authority (CAA) has completed the safety check of the airport and declared it ready for flight operations, according to sources.
They added that the inauguration of flight operations at the airport is likely to take place on Pakistan Day (March 23), with the government overseeing the proceedings.
The Chinese government provided funding for the project, which is located in Gurandani, 26km east of Gwadar city, under the China-Pakistan Economic Corridor (CPEC) initiative.
The estimated cost of the Gwadar International Airport project was around $230 million.
As per the CPEC website, the airport's construction generated 3,000 jobs.
Gwadar Airport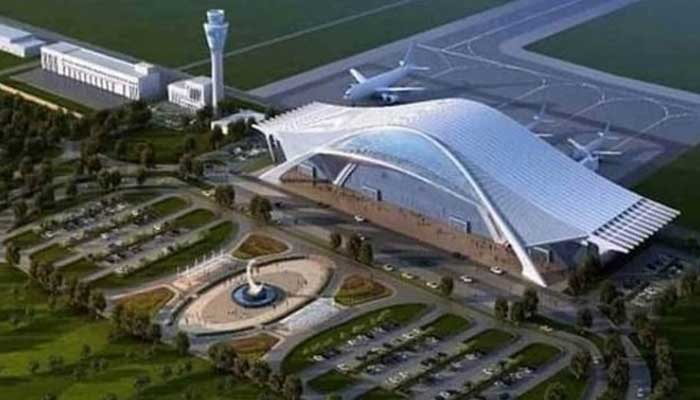 Pakistan Tehreek-e-Insaf (PTI) Chairman Imran Khan, who was the prime minister at the time, conducted the airport's groundbreaking ceremony on March 29, 2019.
The Aviation Division began construction work on October 31, 2019, after being assigned the responsibility of implementing the project.
The airport will accommodate a range of aircraft for both domestic and international routes, including ATR 72, Airbus (A-300), Boeing (B-737), and Boeing (B-747).
Which includes ATR 72, Airbus (A-300), Boeing (B-737), and Boeing (B-747).
Earlier today, Minister for Planning and Development Ahsan Iqbal chaired a review meeting on the "Test flight at the new Gwadar International Airport" in Islamabad, discussing the progress of several projects, including the CAA Complex, landslide infrastructure, cargo building, Airports Security Force (ASF) Camp for 1,050 Personnel, and 132kV grid station.
Moreover, The federal minister instructed CAA to finish all development projects for the airport before September 2023 and requested the authority to submit a plan of action for executing and implementing the remaining tasks within three days.
In the meantime, the prime minister announced during a press conference last month that the Gwadar port has become operational with dredging operations underway, and wheat shipments have already begun from there.