According to information released by the government, family members of politicians, bureaucrats, and retired generals have received foreign gifts worth over Rs260 million from Toshakhana over the past 20 years either for free or by making paltry payments amounting to Rs56.7m.
A review of the 446-page document reveals that a significant number of family members of public office holders collected precious gifts from the Toshsakhana after depositing a meager amount in the national exchequer.
Of the top 10 individuals whose families kept the most expensive gifts in terms of value, four belong to PML-N, namely Shahid Khaqan Abbasi, Nawaz Sharif, Mamnoon Hussain, and Ahsan Iqbal.
Prominent Pakistani Politicians and Bureaucrats' Families Keep Expensive Gifts at Fraction of Worth, Official Record Reveals
The beneficiaries include family members of Imran Khan, the chairman of PTI, Dr. Arif Alvi, the President, Syed Yousuf Raza Gilani, the former premier, Pervez Musharraf, the former military ruler, Shaukat Aziz, the ex-premier, and retired Brig Waseem Iftikhar Cheema, the former military secretary to the prime minister.
The record shows that Shahid Khaqan Abbasi's family members retained gifts worth Rs123.4m by paying only Rs24.6m to the national exchequer.
In addition to Mr. Abbasi's wife, his two sons, Nadir Khaqan Abbasi and Abdullah Khaqan Abbasi kept two wristwatches worth Rs22.5m by paying a meager amount of Rs4.48m.
Former President of Pakistan Mamnoon Hussain's Family Members Among Those Who Kept Expensive Gifts at Fraction of Their Worth
Mamnoon Hussain's family members, including his wife, daughter, and son, kept gifts worth Rs31.1m by paying only Rs6.2m.
In June 2015, the former first lady received a necklace, a pair of earrings, a bracelet, and a ring made of gold and diamonds worth Rs29.9m, for which she paid only Rs5.8m.
She received a similar jewellery set worth Rs1.92m a month before the disclosure and paid only Rs216,482.
Similarly, Sehba Musharraf, the wife of Gen Musharraf, retained foreign gifts worth Rs22.9m by paying only Rs3.43m.
In 2003, she collected jewellery worth Rs2.63m by paying Rs393,658, and in April 2007, she retained a jewellery set, a bracelet, and earrings worth Rs14.8m by paying Rs2.2m.
In 2008, she obtained a gold and diamond jewellery set and blue sapphire worth Rs3.7m but paid only Rs560,025.
Imran Khan's Wife and Gilani Family Members were Among Those Who Paid a Fraction of the Gift Worth to Retain Them
PTI Chairman Imran Khan's household wife Bushra Bibi collected a necklace, earrings, bracelet, and a ring worth Rs18m from Toshakhana after paying Rs9.3m.
PPP's Gilani paid only Rs342,243 for the foreign gifts worth Rs2.33m that his wife, two sons, and one daughter have been shown to have retained.
So far, first lady Samina Alvi has taken away gifts valuing Rs1.83m after paying Rs890,500.
They deposited Rs865,000 to obtain the most precious gift among them, a jewelry set containing a necklace, a pair of earrings, and a shield worth Rs1.76m.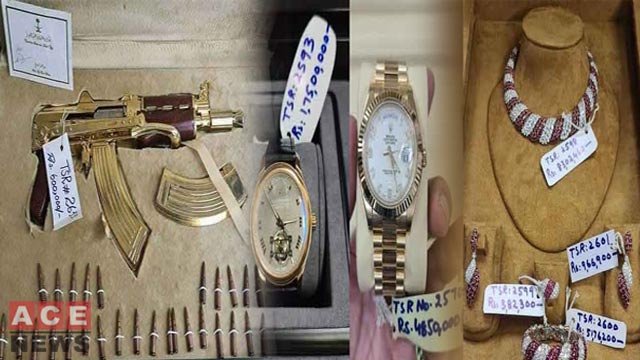 Retired Brigadier's Wife, PML-N Leader's Spouse, and Ex-PM's Wife Among Those Who Retained Gifts at Fraction of Their Worth
The wife of retired Brig Waseem Iftikhar Cheema, former MS to the PM, also pocketed gifts worth Rs1.44m after paying Rs507,146 only. Mr. Che­ema is also among those bureaucrats who rec­eived many expensive gifts during their tenure and retained them.
The wife of PML-N leader Ahsan Iqbal, according to the official list, retained a wristwatch whose price has been mentioned as Rs775,000 after paying Rs149,000 only.
She received the gift in 2018 when her spouse was serving as the interior minister of Pakistan.
The wife of ex-PM Shaukat Aziz has perhaps retained most of the gifts in terms of number, but their total worth comes to around only Rs688,040.
He deposited Rs69,509 for the gifts his wife had retained.