ECP has been advised to consult law enforcement agencies (LEAs), political parties and other relevant stakeholders prior to allotting the date for the general elections in the province.
The governor of Khyber Pakhtunkhwa, Haji Ghulam Ali in a letter addressed to the Chief Election Commissioner Pakistan Sikander Sultan Raja recommended the body to consider law and order and security situation of the province prior to determining the election date for the province.
The Excerpt from the letter
The excerpt of the letter states, "In view of the alarming law and order situation in the province and series of terrorist attacks during the past days, it would be advisable that before fixing a date for the general elections, the ECP should consult and take into confidence the relevant institutions/LEAs [law enforcement agencies] as well as political parties, to ensure that conduct of general elections in a fair, free and peaceful manner in the province is possible."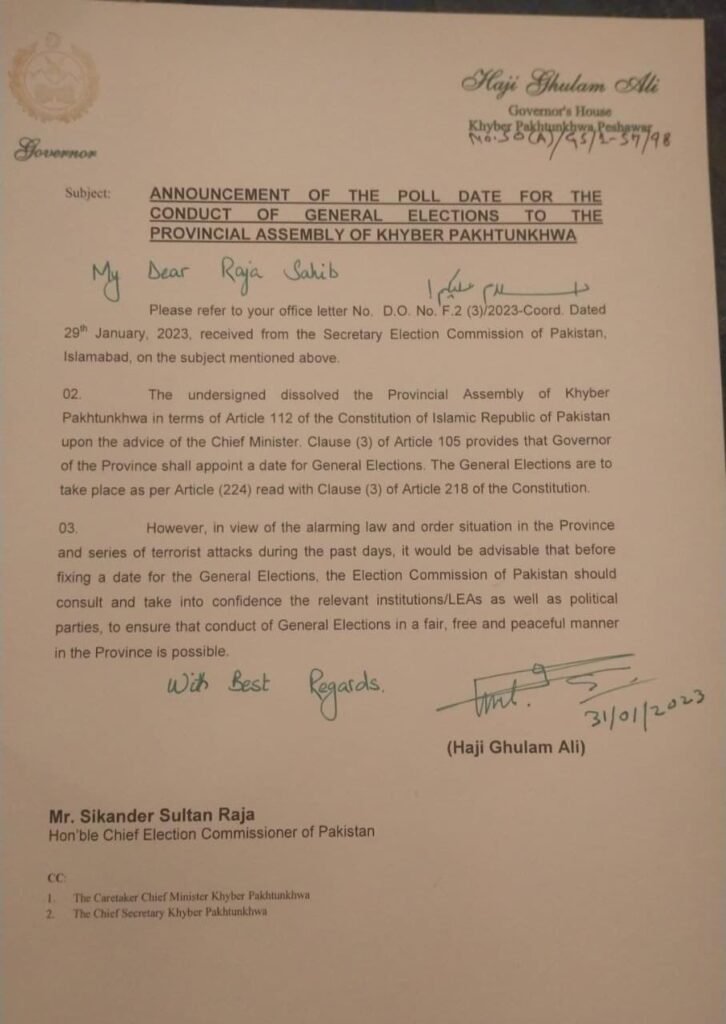 The Governor and Government differences
While Caretaker CM Azam Khan dismissed the notion of delaying the elections due to the current state of security.
Similarly, the PTI approached the Peshawar High Court a day earlier, to challenge the delay in the announcement of the election date. The PTI had requested the court to direct the governor to act according to the Constitution.
The PTI Petition
The senior lawyer Muhammad Muazzam Butt filed the petition against the governor KP. Prominent PTI party workers and former provincial ministers accompanying him incuded Mohammad Atif Khan, Shaukat Yousafzai, and Shahram Khan Tarakai.
The petition prayed to declare the governor's assertion of delaying the elections as unconstitutional and illegal. The petition pointed that the KP assembly dissolution was recommended on January 17, but governor ordered dissolution on January 18.
Similarly, the governor was mandated to fix a date for the elections, in consultation with the commission. However, despite the ECP's request on January 24, the governor was yet to fulfil his constitutional obligation.
The PTI expressed regret over the governor's inaction and requested the PHC to take immediate action.