KPO Terrorist Attack 'Facilitator' Arrested. The suspects shifted to an undisclosed location for interrogation
kPO Attack:
Police arrested a suspected facilitator along with seven other suspects from different areas of the city, thereby progressing the inquiry into the terrorist attack on the Karachi Police Office (KPO) that occurred on Friday.
Sindh Police Chief Ghulam Nabi Memon stated that the police department established a top-level committee, comprising members from the Criminal Investigation Agency and the Counter-Terrorism Bureau (CTD), to investigate the incident.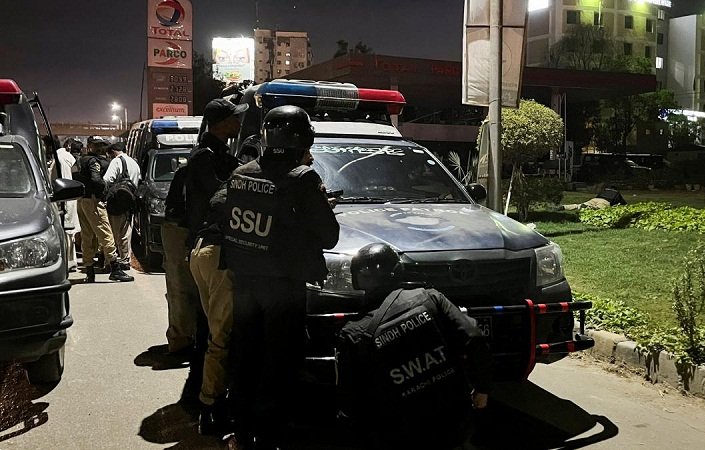 Sources reported:
CTD agents took the alleged facilitator into custody from the Gulistan-e-Jauhar neighbourhood between Saturday and Sunday night.
According to sources:
Security personnel carried out raids in various slum neighborhoods and arrested seven additional suspects.
The terrorist attack on KPO on Friday evening, involving automatic weapons and suicide vests, resulted in a brutal clash with security personnel, causing the death of four people.
As reported by sources:
Moreover,
Sixteen people were injured in the attack in addition to the two police officers and a Ranger inspector who lost their lives.
After the security forces killed the three terrorists responsible for the attack, they were able to retake the building.
According to sources:
The arrests were made after geofencing the crime scene.
They stated:
Information from the National Database and Registration Authority (NADRA) was gathered regarding the suspects who had been detained.
Meanwhile,
Sources reported that nine other teams, including bomb disposal teams from the police and military, completed the final search of the compound and confiscated additional items for evidence.
The search yielded a hand grenade, newly purchased handguns packaged in plastic boxes with all their accessories, a box of 9mm rounds, a knife, a digital camera, a smartphone, two watches, and a men's wallet.
Additionally,
The sources disclosed that they found 210 fired and unfired bullets.
Also grenade shrapnel, burnt suicide jacket cloth, a burnt-out backpack, a USB, and a gun holder among other items.
The Sadar Police has received the recovered items.
Inspector General of Sindh Police Ghulam Nabi Memon confirmed that they have identified two of the three terrorists involved in the KPO attack.
However, the identity of the suicide bomber remains unknown.
Memon Said On KPO Attack:
"We will expose the terrorist groups and facilitators behind this attack."
The police chief added:
"A high-level committee has been formed to investigate the attack and arrests are being made."
In the meantime,
The death toll from the attack increased to five after a wounded police officer passed away during treatment at a hospital.
Furthermore,
They are referring to Abdul Latif, the deceased officer who was from Shikarpur and posted in Security Zone I, as a "martyred policeman."
Read More: Karachi Police Chief Office Cleared From Attackers: Three Terrorists Shot Dead, Two Cops Martyred