On Friday, the Balochistan High Court (BHC) suspended an arrest warrant issued by a local court in Quetta for Pakistan Tehreek-e-Insaf (PTI) Chairman Imran Khan for two weeks.
After filing a plea on behalf of the PTI chief, Iqbal Shah of the Insaf Lawyers Forum (ISF) appeared before Justice Zaheer-Ud-Din Kakar of the BHC, who then suspended the warrant.
During the hearing, the plea presented an argument that the offence was not committed in the jurisdiction of Bijli Police Station, where the case had been registered, and requested the court to dismiss the FIR.
Justice Kakar suspended the warrant and summoned the Balochistan police chief, SP legal, and the station house officer of the Bijli Police Station.
A Quetta police team had arrived in Lahore to arrest Imran Khan as per the court order, but the suspension of the warrant halted the arrest for the next two weeks.
The judge adjourned the hearing for two weeks.
Quetta Police Team Reaches Lahore To Arrest Imran Khan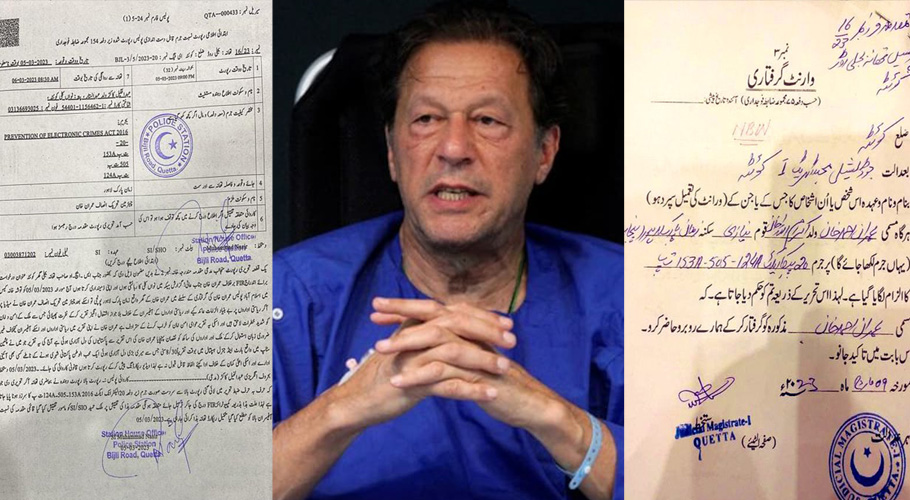 Earlier,
A police team from Balochistan's Quetta arrived in Lahore with the intention of arresting the Chairman of Pakistan Tehreek-e-Insaf (PTI), Imran Khan, in a registered case there.
According to sources, Nadeem Ahmed, the Superintendent of Police City, and his team arrived in Lahore with an arrest warrant for Khan issued by a judicial magistrate in Quetta.
Moreover, The team includes a DSP named Abdul Sattar Achakzai, a sub-inspector named Malik Hameed, two trained commandos named Qaiser and Sultan, and a driver named Ilyas.