The Pakistani captain, Babar Azam, found himself in the spotlight on a busy day at Liberty Chowk, one of Lahore's well-known landmarks. Excise officers stopped him as he drove his Audi through the crowded streets because they thought there might have been a violation.
Azam behaved calmly with the officers as they swiftly approached the vehicle, fully conscious of the obligations that come with being a public figure.
The officers noticed that his licence plate's numbers were strangely small and did not adhere to the required size standards.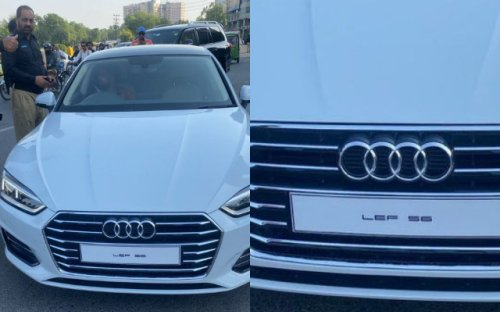 They advised Babar to get a normal licence plate since they were worried about him following the rules.
The excise officials checked Babar Azam's documents, including the registration and taxes on his car, as part of their responsibility.
The thorough investigation found no need for an additional investigation because the cricket star had faithfully completed all of his responsibilities.
This confirmation demonstrated Azam's dedication to upholding his legal duties as an accountable citizen.
Also Read: Imran Khan At Hospital For Stomach Pain Diagnosis
Babar maintained his composure and demonstrated a friendly attitude despite the temporary difficulty.
Babar Azam showed his gratitude for the excise inspectors' commitment to their jobs by taking photographs with them.
This action highlighted the value of fostering a positive connection between public leaders and police enforcement and showed his appreciation for their work.
The information about Babar's encounter with the excise officers at Liberty Chowk quickly spread on social media.
The episode demonstrated Azam's practical nature, further winning over his supporters and bringing praise for his modesty and respect for law enforcement officials.