LAHORE (TTI News) – Pakistan Tehreek-e-Insaf (PTI) leader Aun Chaudhry on Friday has resigned as Special Coordinator to Chief Minister of Punjab (CM) on Political Affairs.
In a resignation, Aun Ch stated, "Today, I have been told by the CM Office to disassociate myself from Tareen Group or resign from the position."
"Everyone knows that Jahangir Tareen is the person who played a pivotal role in the struggle of PTI and keeping in view his efforts for the success of PTI in 2018 Election and formation of PTI government in the center and Punjab, my conscience does not allow me to abandon my association with the most loyal member of PTI who served selflessly as I have," the document stated.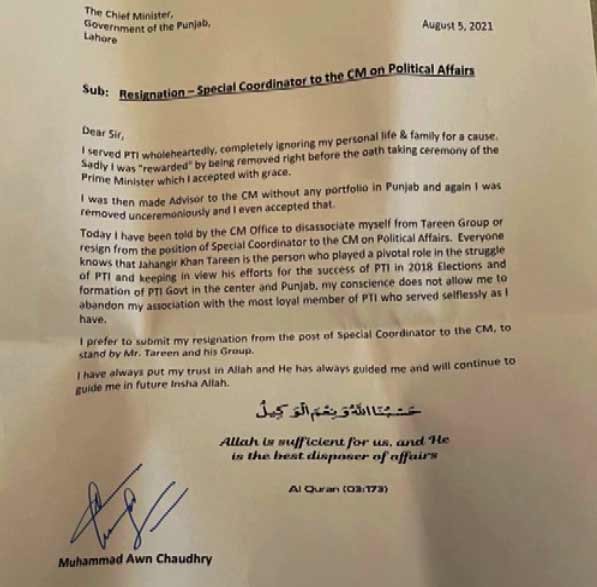 "I prefer to submit my resignation from the post of special coordinator to the CM to stand by Mr Tareen and his Group," he added.
Ever since his ascendancy to political power, Imran Khan, the leader of Pakistan Tehreek-e-Insaf, has been surrounded by seasoned and veteran politicians but his closeness with Aun Chaudhry, the head of PTI Secretariat, has mystified party leaders and political observers.
However, this relationship might run into difficulty soon as one of the country's intelligence agencies has warned Imran Khan to disassociate himself from Aun Chaudhry, which he denied upon contacting him.
Imran Khan has been communicated that his continued relationship with Aun Chaudhry can damage his reputation in public, sources say.
Aun Chaudhry is a Lahore-based businessman and former husband of film actress Noor. He has a ubiquitous presence in all of Khan's activities, often seen standing behind the PTI leader during press briefings or sitting with him in Islamabad's popular eateries.
Background interviews with some PTI's leaders reveal that a number of party leaders and workers have dislikes for the role of Head of the Chairman Secretariat for a long time but, despite their all-out efforts, they have failed to limit his influence at the Bani Gala residence of Khan.
The PTI leader speculated that perhaps both these two leaders were compelled to do so as they were using Aun Chaudhry to extract information about activities in Bani Gala.
Aun Chaudhry shares had rented residence along with Naeemul Haq in Bani Gala and is responsible for arranging all political meetings of the chairman with the party workers, other political parties, diplomats etc on a daily basis. However, Central Information Secretary late Naeem ul Haq, had a role in arranging the important meetings in Bani Gala.