Another incident has been reported on the under-construction Bhara Kahu flyover in Islamabad, where a girder collapsed during the placing operation, leading to the closure of roads on both sides.
Witnesses reported a loud bang and a cloud of dust covering the site.
Fortunately, there have been no reports of any injuries or fatalities.
This is the second incident of Bhara Kahu within a week, the first one resulting in the death of two laborers and injuring three others when the shuttering of the flyover collapsed.
These incidents have raised serious concerns about the quality of the construction and safety measures.
Motorists are advised to take alternative routes to avoid any inconvenience caused by the closure. The flyover was meant to alleviate traffic congestion on the main Murree Road.
Have a Look at the Video:
In a tweet, Islamabad police confirmed the incident, adding that there were no injuries or fatalities.
The unverified CCTV footage circulating on social media depicted the enormous concrete girders of the flyover tipping over and colliding with one another before ultimately collapsing entirely, narrowly avoiding a pedestrian.
The IG Islamabad was also present at the Location.
Earlier,
On February 25th, the same bridge had a pillar collapse, resulting in the deaths of two men and injuring three others.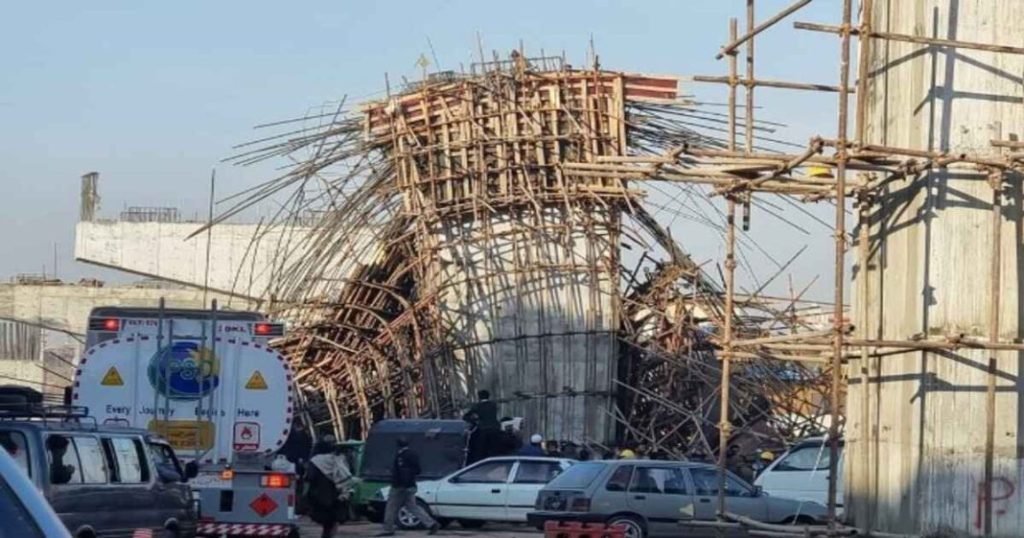 Read More: After Italy, Another Boat Crash Claims Lives Of Pakistani Migrants
The Prime Minister, Shehbaz Sharif, has taken notice of the incident and requested a report from the CDA chairman.
Furthermore,
On September 30th, Prime Minister Shehbaz Sharif laid the foundation for the Bhara Kahu bypass and instructed the National Logistics Cell (NLC) to complete the project within three months, instead of the four months outlined in the PC-I.