All Pakistanis evacuated from war-hit Sudan:
On Tuesday, the Ministry of Foreign Affairs announced that they have successfully evacuated over 1,000 Pakistanis from the conflict-affected country ( Sudan) and have concluded their evacuation operations.
The statement also mentioned that the evacuation process for Pakistani citizens through Jeddah would continue until all of them are brought back safely.
The ministry expressed its gratitude towards China and the Kingdom of Saudi Arabia for their assistance in the evacuation process in a brief statement.
"By Allah's grace and tireless efforts of our embassy in Khartoum led by Amb Regi, supported by Saudi Arab and China, and our teams in Jeddah and Islamabad, we have successfully [and] safely evacuated over 1,000 Pakistanis out of Sudan. With this, our evacuation operations out of Sudan have ended," the FO tweeted.
The Ministry of Foreign Affairs announced yesterday that almost all of the 1,000 Pakistani citizens stranded in the conflict-hit country will evacuate within the next 24 to 48 hours.
Since the beginning of the conflict earlier this month, the Foreign Office has been actively working to repatriate stranded Pakistani citizens from the war zone.
The Pakistanis in Sudan are first moved to Port Sudan and then brought back to Pakistan through Jeddah, where the Pakistan Air Force is assisting in their repatriation.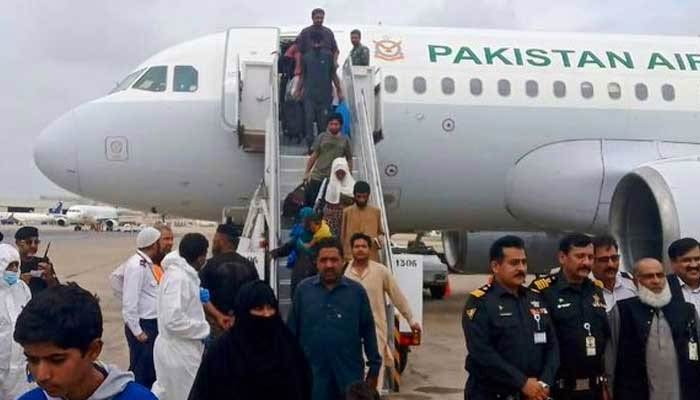 Yesterday, the ministry also expressed its gratitude towards Saudi Arabia on Twitter, thanking them for their support and assistance in facilitating the safe return of distressed Pakistani citizens.
Sudan in Crisis as Deadly Clashes Erupt Between Army Chief and Deputy, Resulting in Over 500 Deaths
On April 15, fighting erupted in Sudan between the loyal forces of army chief Abdel Fattah al-Burhan and his deputy-turned-rival Mohamed Hamdan Daglo, who leads the powerful paramilitary Rapid Support Forces (RSF). The clashes have resulted in the deaths of more than 500 people.
Daglo commanded the RSF, which originated from the Janjaweed fighters accused of war crimes, including genocide, under former leader Omar al-Bashir's regime in the Darfur region.
Also Read: Mosque In Islamabad Offers Free Marriage Hall To Assist Poor Families
Citizens' large-scale protests led to the military overthrowing Bashir in April 2019.
In 2021, the two generals, Al-Burhan and Daglo, seized power in a coup but later fell into a bitter power struggle. The latest issue between them is the planned integration of the RSF into the regular army.